Top 5 horror movies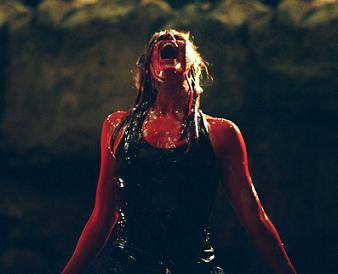 Eli Roth shared his Top 5 horror movies today--a good list, almost all 80's movies that upended or redefined the genre. On his list is Sleepaway Camp, Troll 2, Creepshow, Zombi 2, and Pieces. I've only seen a couple of those, but now Sleepaway Camp and Pieces are on the must-see list.
I suspect he partly included Troll 2 because now it's cool to be into that movie after last year's documentary Best Worst Movie. And sure, we all grew up watching Creepshow, but it wouldn't be on my list.
A couple of things I would add: Dario Argento is the perverse grinning granddaddy of Italian horror, and Suspiria is an obvious choice, but it's on my list. It's one to show the kids. David Gordon Green's remake has been on the radar for a few years now, but Argento apparently just released the rights over the summer. There's still no info about it on IMDb, but maybe now we'll get some action.
Peter Jackson's Dead Alive wins the prize for funniest horror movie. The gore is absolutely epic, but so surreal and goofy that it never gets stale, and those animatronic creature-monsters make it feel like some kind of grotesque Muppet horror. Two years later, he made Heavenly Creatures, which if you take them together might make you really glad you aren't Peter Jackson's mother.
And The Descent (photo above), one of my favorite movies ever. It starts out as an all-girl buddy movie, then becomes an adventure vacation gone awry, then becomes a gross-out creature-slasher movie. And works in some excellent scenes of breakdown of social order and whatever-it-takes survival. Plus features some of the toughest women in movie history, including Tarantino. I'm nuts about this one.
I hear that the French are doing the really truly sick stuff in horror these days, but I'm too scared to watch Inside or Martyrs. And I usually like the old stuff better anyway.
Here are all the movies AMC is playing for this year's Fearfest. Some pretty good stuff including 28 Days Later, the really great Dawn of the Dead remake, From Dusk Till Dawn, and They Live. Bad news is they'll all be edited.
Any recommendations of your favorite horror movies?