New York Times: The math club president in the cheerleaders' locker room +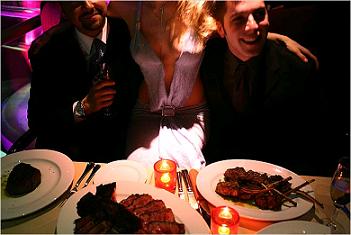 Frank Bruni's review of the steakhouse in the Penthouse Executive Club is surely rocketing its way up the Times' "Most Popular Articles" list. I hardly know what to say about this thing, except that it's totally bewildering, and very funny.
When the Times runs an article about a somewhat distasteful, low-brow topic like strip clubs, they often assume a posture of the amused outsider, observing the unwashed masses and their unrefined pursuits (like the article about other papers' journalists, who often *gasp* go out drinking together after work!) When their restaurant reviewer goes to a strip club to eat their legendarily delicious steaks, he does so only while stressing how out of place he feels, how much he is really, honestly there for the steak, and intentionally comes off like a dork pushing his wire-frame glasses back up his nose. Even in the part when the strippers pour a buttery nipple cocktail and Reddi-Wip down his throat.
My favorite part is his exchange with a woman who is I guess is his waitress or hostess, who sits down with him and his friends at their table.
She introduced herself. I wasn't sure I'd heard her name correctly.
"Mahogany?" I said.
"Yes," she purred.
I was getting my bearings. "Mahogany," I asked, "do you know where you're going to?"
She didn't miss a beat, noting the reference, summoning the singer, and moving on to another of the dreamgirl's hits. "I'm ... coming ... out!" she sang, waving her arms, wiggling her hips. Mahogany and I would get along just fine.
Haha! Funny, but maybe trying a little too hard to show how down with the strippers Frank Bruni can be, and how he totally doesn't objectify these women but actually views them as intelligent and very, very friendly human beings. He even chats with another stripper about her cellphone! Plus, did he mention he really loved the steak?
Funny article, if painfully self-conscious, like the Times was trying to publish something "fun" that might be found in New York magazine, but ended up with something more like what you'd read in Stuff. There's also an interactive slideshow that features equal parts steak and tits. Even though Bruni swears that he and his friends weren't interested in the human flesh on display, somebody on the payroll clearly picked up on it.
UPDATE: Of course, all this makes a lot more sense when you take into account that Frank Bruni is gay. Of course! A group of gay guys eating steak "ecstatically" at Penthouse Executive Club on Valentine's Day with the Times picking up the tab makes the whole story so much better. I can't believe I didn't pick up on this right away, but at least Mahogany seems like she did.