My Bloody Valentine at Roseland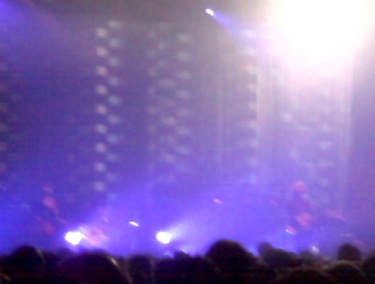 [photo by 12th St David. they're all pretty fuzzy, but that's what you would expect, right?]
Here's who I thought would be at the My Bloody Valentine show tonight: guys I dated in college who live in the tri-state area, provided they could find a babysitter on a Monday night.
Here's who was actually there: Many iterations of the guys that you may have known in the early 90's at your college radio station who smoked weed and listened to MBV, and also a number of people who looked exactly like the untenured professors in my English department. Brown corduroy jackets and everything. Almost none of these people were dancing, and several, I swear to God, were gazing at their shoes. Plus maybe 3 or 4 girls.
This show was a sold-out sausagefest, but then again, I was pretty disdainful toward MBV all through college (indiepop fan), only later realizing that those dope-smoking radio DJs were onto something. And there we all were, 15 years later, packed into Roseland and bobbing our crinkly heads.
I was a little worried the music might be a self-indulgent, feedback-heavy Jazz Odyssey freakout, the kind of unstructured guitar-band reverb drone that is the reason why I don't go to Sonic Youth shows. But actually, My Bloody Valentine was incredibly tight. They rocked. Each song was clearly delineated as an individual song, with those beautiful, catchy pop melodies floating through swampy layers of guitar sludge. As my concert companion said, the band was a whole lot tighter than the Dandy Warhols, who he had seen a week or so earlier. (The Dandy Warhols are like 12 or 13 years old now, not much younger than MBV, which is weird.)
It's hard for a short person to see very much at crowded shows like this one, but when I caught glimpses of the band, they were keeping themselves mostly obscured in a hazy, saturated murk of lights. Pink, Loveless-cover colored lights. Kevin Shields appears to be turning into Robert Smith.
A tight set of catchy songs like this reminded me that My Bloody Valentine, with all their multitracked guitars and loops and fuzzed-out vocals, is ultimately a really disciplined rock band with some great hooks. They kept the set to songs that ran only about as long as they did on the albums, with no interminable solos or repetitive wanderings. Until the very end.
At the end, they changed direction completely and went into a eardrum-liquidating monotonous droning distortion loop that sounded like an airplane taking off. For 20 minutes. Or maybe longer--that's when I left. "That was the loudest thing I have ever heard," said the concert companion. I had to get out of there, but I was glad they had separated that element of their show from the more mainstream-rock part, because I only really want to hear actual songs, and my ears hurt. Still, an amazing show.
Here's the Times review of their show on Sunday at All Tomorrow's Parties up in the Catskills, with a good, quick history of the band. Here's their video for "Soon" from 1990.