Upcoming sci-fi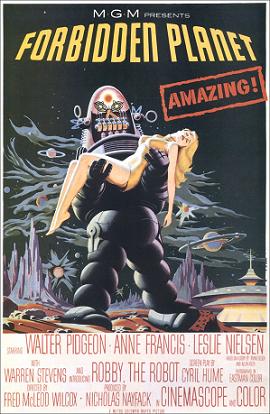 Forbidden Planet from 1956 is one of the most entertaining sci-fi classics out there, even for a not very committed sci-fi fan like me. In the story based on The Tempest, a young Leslie Nielsen leads a mission to a distant planet inhabited only by the sweet-faced Anne Francis and her father, and lovable sidekick Robby the Robot. The movie also had the first all-electronic movie soundtrack, and this was years before the first Moog synthesizer came out.
So now there's going to be a remake, which hopefully will hang onto some of the endearing qualities of the original, or at least include a Leslie Nielsen cameo. The remake is being written by J. Michael Straczynski, a man who I think formed my childhood concept of what sci-fi/fiction is: he wrote for He-Man, She-Ra, and the 80's version of the Twilight Zone. (He also created Babylon 5, which I wasn't into.) And he did the screenplay for the Wachowski Brothers-produced Ninja Assassin, which comes out next year and looks OK.
But: more important. J. Michael Straczynski also wrote the screenplay for the movie version of Max Brooks' World War Z! The book is a really fun read, a surprisingly well thought-out and thorough collection of oral accounts of the great zombie war that engulfs the globe in the near future.
Here's a review of the leaked World War Z screenplay, with some excerpts. Looks like the movie will stick with the current fast-zombie trend, and attach all sorts of criticism of government corruption and consumer culture to the zombie metaphor--the reviewer calls it "a George Romero wet dream."