« Rachel Getting Married: Jonathan Demme's still got it | Home | How to turn an ugly crowd into a scary crowd »
October 8, 2008
Gretchen "No Nuts" Mol is back on TV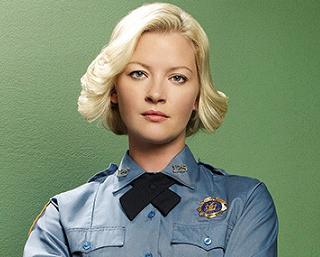 Tomorrow night is the premiere episode of "Life On Mars", a British show adapted by ABC. This is the one about a cop who gets knocked on the head and travels back in time to 1973, when the streets were tough and cops didn't have cellphones. The clips I've seen make it look like it will do for cops what "Mad Men" does for the advertising industry: show us how bad the bad old days were with racism, sexism, smoking, drinking (and in this case, police brutality) while reminding us that all that stuff still goes on now, we've just gotten better at hiding it.
The show has been through a tumultuous history already--it's gotten a new executive producer (David E. Kelley was the first one, but I've liked exactly zero of his shows, so this is a good thing,) an almost totally new cast, and has been relocated from LA to NY. But about that cast: it features Harvey Keitel as a tough-guy lieutenant who has no truck with Miranda rights, though does hilariously like to cool his brow with a delicate little Chinese paper fan in a clip posted on the show's website.
Gretchen Mol was cast just recently as the precinct's lady cop, nicknamed "No Nuts" (heh). Hopefully this show will last longer than her last one, Girls Club, or excuse me, "girls club", which didn't have enough capital letters to keep it from getting axed after two episodes.
Lisa Bonet is in it too, as the main cop guy's present-day girlfriend, and in the commercials for the show she somehow looks exactly the same as she did in 1987. Haven't seen her since she was in High Fidelity.
And we're all excited to see Michael Imperioli back on TV--in the clips it looks like he's wearing a raccoon pelt on his upper lip and his character is described as "Part misogynist. Part bigot. All cop." Awesome.
The Reuters review notes that the American version of the show doesn't speculate on the sci-fi nature of the cop's time traveling, and once he's back in the 70's, he stays there. But the original series only ran for a total of 16 episodes over 2 years, so we'll have to see if the adaptation can come up with enough new material for an entire season, if it makes it that far.
The San Francisco Chronicle review says the music in the pilot is especially good: The David Bowie title track, plus Who and Rolling Stones. Sounds like some expensive rights to clear for TV, but hopefully the soundtrack will be one of the best parts of the show.
The Daily News has an elaborate 1973-era homepage today as part of the show's marketing--sort of a nonsensical concept (the dubious tagline is "Ever wonder what our homepage was like in 1973?") But it's cool as a media artifact, since it looks like the content is actual 1973-era DN articles, including a review of Serpico, a great feature on the year's best album covers (War, Carly Simon) and a piece announcing the Roe v. Wade decision.
The premiere of "Life On Mars" airs tomorrow at 10.

Trackback Pings
TrackBack URL for this entry:
http://amysrobot.amyinnewyork.com/mt/mt-tb.cgi/881
Comments
Post a comment