Brick: where do you eat lunch?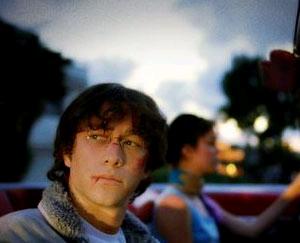 Brick is the debut feature film from 32 year-old writer and director Rian Johnson. It's getting a lot of press about its inventive style: noirish detective movie set in a southern California high school. The concept of the movie is simple but original; it won a special prize at Sundance last year for Originality of Vision.
But I'm happy to say that the movie rises above any gimmicky self-conscious coolness, probably because it's written as a serious murder mystery with all the stylized dialogue and standard characters of a typical 1940's noir, and doesn't resort to winky jokiness. I think the new settings (high school soccer field, the dumpsters behind the school, parents' basements) keep it from looking like a straight rehash or parody of noir. Knowing where different students are during 4th period, where they eat lunch, where their lockers are, and how to get invited to an exclusive party at a rich girl's parents' house are all part of the social hierarchy of high school, and these get mixed into the story along with usual crime-movie elements like drug deals and anonymous threatening phone calls. But in Brick, the law-enforcement figure the detective character is always dodging is the Assistant Vice Principal (played by Richard Roundtree from Shaft!)
As the movie's creator points out, the high school setting really lends itself to the clannish underworld of noir detective stories. "Once I made the decision to put it in this high school world, it was actually weird how easy it was and how neatly the world of detective fiction and high school conventions slid on top of each other... It's kind of little microcosms of society at large. It is exactly that self-contained dark little world that has its own set of very precise rules, even down to the different character archetypes from detective fiction."
The cast is mostly 25 year-olds playing 16 year-olds, with a few notables: Lukas Haas plays an out-of-school crime figure--it sure is something to see Lukas Haas again, all grown up. That scene from Witness where he sees the murder and resourcefully hides from the killers in the bathroom stall is one of the most tense movie moments I've ever seen. I missed Gus Van Sant's Last Days that he starred in, but I guess soon we'll get to see him in Chris Penn's last movie and Winona Ryder's latest attempt at credibility The Darwin Awards.
Lost's Emilie de Ravin also stars as the dead girlfriend at the center of the mystery. Considering that Lost's producers do a pretty good job of killing off characters when they run out of interesting things to happen to them, I've been thinking that Claire's days are numbered. So I'm glad that Emilie de Ravin has been freshening up her resume with movies like Brick and The Hills Have Eyes lately.
Brick has a nice website too. It opens in NYC and LA tomorrow, and in the rest of the country next week.