New trailers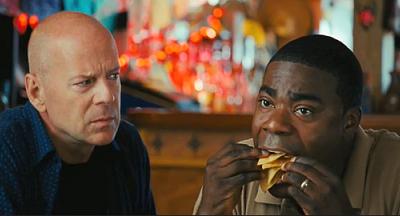 I saw Sherlock Holmes over Christmas (a fun movie, really funny, Robert Downey, Jr. is fantastic) and thought I'd mention a couple of the trailers that ran along with it.
Remember the photos from a few months ago of Tracy Morgan riding a bike in a cell phone costume? Those were taken on the set of Kevin Smith's new movie A Couple of Dicks. So now here's the trailer with Tracy and Bruce Willis as cops chasing after smart-ass Seann William Scott. Then the title flashes up, and it seems the movie has a new, less funny title: Cop Out.
Kevin Smith says that after the experience of trying to market Zack and Miri Make a Porno, the studio was worried about running TV ads for A Couple of Dicks. They checked with the networks, who said that as long as the word "dicks" was in the title (the plural, specifically; "dick" apparently would have been OK) they wouldn't air ads until after 9:00 PM. So they had to come up with a new name.
Cop Out makes it sound like an 80's cop buddy movie, which Smith says is the feel he was going for anyway, plus it's a little meta-commentary on the forced title change. Smith still sounds disappointed: "We were making up sequel titles in our heads, dude. Like, you know, Two Bigger Dicks. Or Dicks 2: It Just Got Harder."
The trailer is OK, but not gaspingly hilarious. I liked Kevin Smith's last couple of movies, but this is the first movie he directed that he didn't also write, so it's hard to know what to expect. It might not have any funnier moments than Tracy shoving nachos into his face (see above).
Then came the trailer for Hot Tub Time Machine, the most confidently self-explanatory movie title since Snakes on a Plane. The cast is pretty strange: there's Craig Robinson, who is building a solid career out of supporting roles in every funny movie and TV show produced this decade, Rob Corddry, who hasn't quite exploded into the superstardom I thought he would achieve after he left The Daily Show a few years ago, and one of the kids from Sex Drive, which no one saw.
And John Cusack.
I'm not sure where John Cusack is heading with his career these days. Think about the movies he's been in lately. He's had a hit or two this decade (2012, Serendipity) but he has had a LOT of bombs, like War, Inc., Martian Child, The Ice Harvest, and a whole bunch more. Even his serious little indie movies like Grace is Gone looked sort of awful.
The last good, successful movie that starred John Cusack that I can think of is High Fidelity from 2000 (actually, that's the last movie he was in that I saw in the theater, so that's probably why I think that.) I used to think of him as one of my favorite actors, not that he had the most incredible range, but that there was a better than average chance that a movie he was in would be worth seeing. Somewhere around Must Love Dogs, everything changed.
Anyway, Hot Tub Time Machine could be an OK example of a doofusy time-travel 80's spoof. It's directed by Cusack's old pal Steve Pink, and it has Crispin Glover in it, so there is hope.
There's also a not very funny red-band trailer available on a Greek movie site. The best part is that the Greek site calls it "Hot Tube Machine".