« David Cross, Will Arnett, and Spike Jonze do a TV show together | Home | What it was like to make The Hurt Locker »
December 7, 2009
Holiday gifts for kids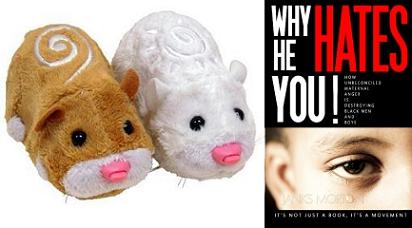 Like a lot of people out there, I have a growing number of small children in my life, and all those children need presents. When you don't spend a whole lot of time around kids, it can be hard to keep up with their interests and obsessions. For example, I only recently found out about Bakugan and its vast universe of Battle Brawler merchandise that any self-respecting 6 year-old is required to possess. You could randomly select a few toys from this product line, but how do you know if you're choosing the coolest action figure, video game, or, God help you, activity book?
And now that this year's insanely popular Zhu Zhu hamsters have turned out to have too much of the toxic fire-resisting agent antimony in them (surprise!), you've got to find some alternatives.
If you're playing the role of the cool but untrustworthy aunt/uncle/family friend, you could just give all the kids on your list a carton of Kool cigarettes and a handle of whiskey. Or if you really want to ensure that you'll never be invited to a Christmas celebration again, give them a new book for families that I received an email about today, just in time for the holidays. It's called Why He Hates You!, and it's a book that invites mothers and sons to explore all the ways they hate each other.
The targeted audience of the book is black women who raised their children alone and black boys raised by single moms, but why not share the hate? Author Janks Morton uses his own experiences as the basis for uncovering "angst-creating parental techniques such as negotiation, manipulation, and castigation"--techniques that, let's be honest, span all races and backgrounds, and lead to deep-rooted parent-hating. Actually, mother-hating.
(Not surprisingly, Janks is a big conservative who is very unhappy about Obama's stimulus efforts and thinks making a case for reparations is "a waste of energy." His hero is his dad, Janks Morton, Sr., and in case you were unclear on this, he hates his mom.)
Give out a few copies of Why He Hates You! to the boys and mothers in your life, and watch the magic of the Christmas season unfold.

categories: Books, Culture, Race, Women
posted by amy at 12:21 PM | #
Trackback Pings
TrackBack URL for this entry:
http://amysrobot.amyinnewyork.com/mt/mt-tb.cgi/1056
Comments
Post a comment