Argentina's awesome president
This is a picture of Argentina's president, Cristina Fernandez de Kirchner, at a graduation event at a military school outside Buenos Aires.
Look at her. That fan, the pose, the exposed thigh.
Now think about Hillary Clinton, and to what lengths she would go to make sure that no picture of her sitting like this while holding a fan at a state function ever surfaced.
Like Clinton, Kirchner is the wife of a former popular president, to whom she owes pretty much all of her political success. Nestor Kirchner stepped down from the presidency earlier this year so that she could run. She won easily, all the while wearing gobs of mascara and flashy suits and loud jewelry.
As the Times of London wrote in comparing the two women, "While every fashion move that Clinton makes is relentlessly analyzed for its potential impact on voters in Iowa – from her latest hair-style to whether or not she laughs too loudly - Kirchner has gaily shrugged off accusations that she is 'frivolous'."
In keeping with her usual aesthetic, which my friend Trash Rock describes as "retired cheerleader", Kirchner wears suits like this: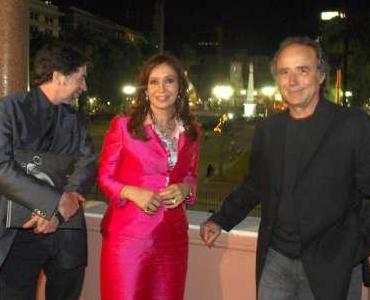 and adopts poses like this in TV interviews: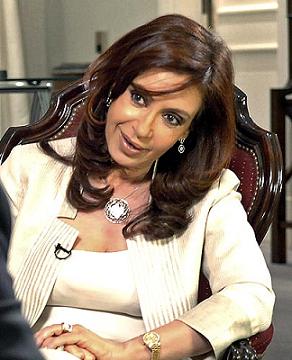 And nobody cares! Can you IMAGINE Hillary Clinton with this body language, looking all languorous and kittenish on the air? Americans would flip out. Sure, Kirchner got elected mainly because voters assume that her policies will be nearly identical to her husband's, but many Clinton supporters probably feel the same way.
The problem is, American campaign strategists seem sure that if Hillary looks good on purpose, she opens herself up to criticism and stereotyping. Obama looked great on the cover of GQ, and I would have been glad to see Hillary in that non-dowdy Vogue photo shoot she backed out of last month. You can bet she would have gotten shit for it, even without holding a fan. Poor Hillary, stuck with her pantsuits.