« Hot For Teacher Debra Lafave: update | Home | Who'dat?™: Rock legends »
December 6, 2007
GOP screws up its sneaky Latino seduction ploy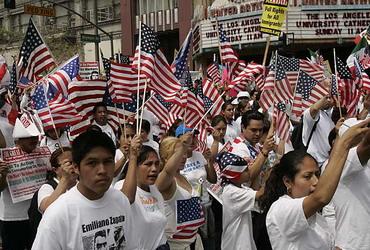 For a minute there, it was looking like the Republican strategy to win over Latino voters was working. They went on about family values and religion and being against abortion, hoping to appeal to the millions of Latinos who might agree with them on those issues. In the 2000 election, Bush got 35% of the Latino vote, and in 2004, he got 44%.
But somewhere along the way, probably around the time all the Republican presidential candidates started arguing loudly about who could keep more Mexicans out of the country, they wised up. A recent poll of Latino registered voters finds that after a brief shift, they're back to favoring Democrats over Republicans at the same rate they did in 1999 (57% to 23%.)
There are expected to be 8.6 million Latino voters in the next election, 1 million more than in 2004. And a lot of them are in big, important swing states like Florida and Nevada. It was a clever idea for the Republicans to try to win them over, but it looks like they blew it. If all those "Hoy Marchamos, Mañana Votamos" marches last year didn't make it obvious enough, Latinos are noticing that the Republican party doesn't even bother to pretend that it wants them anymore. If you side with the "build a fence!" morons instead of the fastest growing population in the country, you lose elections.

Trackback Pings
TrackBack URL for this entry:
http://amysrobot.amyinnewyork.com/mt/mt-tb.cgi/754
Comments
Post a comment