Rockefeller Center Tree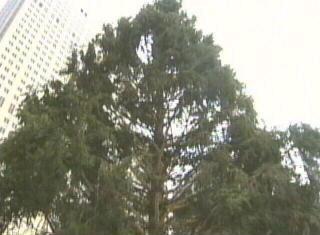 The Christmas Tree in Rockefeller Center is one of my least favorite aspects of the holiday season. It draws swarms of tourists who all gather in the middle of the sidewalk and stand there looking up at it, totally blocking the path of people trying to get somewhere and generally messing up my commute for a solid month.
Tonight's scheduled lighting of the tree feels even more incongruous and inappropriate because early this afternoon it was 63 degrees outside.
Tune in tonight on NBC if you want to see Earth, Wind & Fire and the always relevant Rod Stewart rocking out at the lighting event.