« Southland Tales: most mental movie of the year | Home | Argentina's awesome president »
December 19, 2007
The future of music, according to David Byrne and Thom Yorke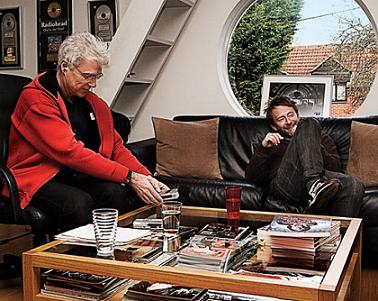 The good folks at Wired completely understand what people like me want in this world: they got David Byrne to interview Thom Yorke about the digital release of the Radiohead album, the future of music, and pretty much everything that's strange, wrong and/or interesting about the music industry.
It's not too long, worth reading. There are also lots of audio snippets of their conversation. But here are a few highlights:
Radiohead made about $3 million from download sales of the "In Rainbows" album, which is more than they have ever made from all digital sales of their earlier albums combined.
This is probably because EMI, their former label, gave them exactly $0 for digital sales of their music. Wow.
David Byrne makes most of his money from licensing. Radiohead make most of theirs from touring. Albums sales hardly enter into it.
In spite of everything, both guys still think releasing albums, rather than a song here and there, makes sense. Yorke: "Songs can amplify each other if you put them in the right order." He says it would have been snobby not to release an actual CD of their album.
This is probably already obvious to everyone, but Thom Yorke explains it well: The old system where labels sent advance copies of CDs to the media so the albums could be reviewed in the press pre-release was all for the goal of making albums chart high in the first week they were released, which nobody really cares about besides labels--bands or fans sure don't. And this very practice is what allowed (and encouraged) people to leak and download music pre-release, which has largely brought about the nosedive in CD sales over the past few years. You manipulate the fans, they bite you in the ass.
Best part of the interview: both guys realizing that record labels are spending all their time worrying about distribution and DRM and licensing and suing people if they think they're getting ripped off-- which is all just "the delivery system". They have forgotten why people buy music in the first place. Byrne says, "people will still pay to have that experience"--connecting with music they love. Yes, yes, yes.
Great stuff.
In related news, MTV calls 2007 The Year The Industry Broke, with a blow-by-blow recap of all the events signaling the end of the music industry as we know it. There are a lot.
categories: Business, Celebrities, Music, Technology
posted by amy at 3:14 PM | #
Trackback Pings
TrackBack URL for this entry:
http://amysrobot.amyinnewyork.com/mt/mt-tb.cgi/759
Comments
Post a comment