Phillies/Yankees borderland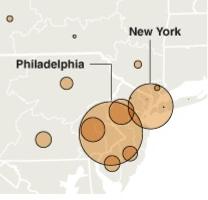 The Yankees-Phillies World Series starts tonight, and the close geographical proximity of the two teams means emotions are running high along the northeast corridor. With Philly and NYC just a two hour drive apart, New Jersey has become the two teams' shared suburban tangle of fandom. Where do Phillies fans stop and Yankees fans begin?
The Times sort of looked at this question today by examining the volume of ticket sales and people looking for tickets for World Series games in New York and in Philly, with a map. Phillies fans seem to be less interested in finding tickets for New York games than Yankees fans are for tickets to Philly games, but there's obviously a huge population difference, and there are fewer Philadelphia game tickets because the stadium there is smaller. For whatever reason, tickets to Philly games are going to be harder to find: "The average ticket listed for Games 1 and 2 in New York is $650, compared to about $1,500 for the three games in Philadelphia."
But that doesn't answer the mystery of New Jersey and where the dividing line falls. A local Philly site has an actual map with Solid Phillies, Solid Yankees, and Leaning areas color-coded. A poll reports New Jersey residents favor the Yankees over the Phillies 44 to 20, but, the site claims, this is due to so many New Yorkers who have "spilled over the bridges with their football teams and packed themselves together in North Jersey like rats."
According to this map, it's Yankees country down almost the whole Jersey shore, while Phillies fans are holding on way up the Delaware River border with Pennsylvania, mostly because New York sports radio airwaves can't reach that far.
This kind of mapping of sports fans in border states reminds me of an exhaustive study the Times did back in 2006, in which they drew a line across Connecticut, showing how Yankees and Red Sox fans divided the state. Mets fans, to their credit, apparently aren't interested in living in Connecticut.
The tricky Yankees/Sox border seemed more important in 2006 than it is now, maybe, but I bet the Phillies/Yankees border will be getting more scrutiny and documentation if the Phillies keep getting into the playoffs all the time.