A Serious Man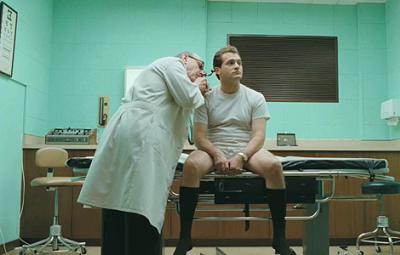 The trailer is out for the Coen Brothers' next movie, A Serious Man. It looks dryly funny, claustrophobic, and a little anxiety-provoking, like their best movies are. The trailer itself doesn't follow the usual narrative-snapshot structure of most trailers -- as Empire describes it, it "loops sound and dialogue to give the impression that DJ Shadow cut it together."
I think this might be their first movie that is, in part, specifically about being Jewish and how the Jewish community as an entity interacts with the main characters. At least that's how it looks from the trailer. They've had Jewish characters in other movies: you've got Barton Fink (which some people think is an allegory for the Holocaust) and Verna and Bernie Bernbaum from Miller's Crossing, but I bet A Serious Man is the movie you could market as the Coens at their Jewiest.
The stars of the movie are largely stage actors, many connected to Minneapolis, which is where the Coens are from and where the movie was shot (as well as in a few other Minnesota towns.) There's Woody Allen regular Fred Melamed (seen in the trailer pounding the lead guy's head against a blackboard over and over again) who's been at the Guthrie Theater in Minneapolis and on Broadway, and stage actors Michael Stuhlbarg and Sari Lennick as the husband and wife whose failing marriage is at the center of the movie.
It comes out in October and looks like it could be a return to the Coen glory days of the 90's. And, tantalizingly, it's "loosely autobiographical". Here's that trailer.