Oscars: bad jokes, zero surprises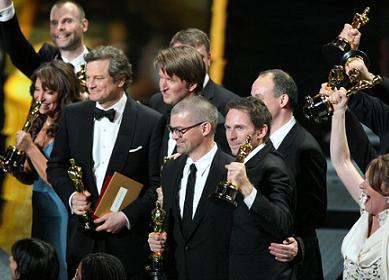 It was a slow night at the Oscars. One joke after another fell flat, and the funniest and most exciting moments were when former Oscars host Billy Crystal showed up and introduced a montage of Bob Hope from his many successful years of hosting. He got a standing ovation from a crowd desperately grateful for a minute or two of well-delivered jokes. Please, Billy, just step in and take over!, everybody wished.
There also wasn't a single upset in the major awards. That was good for me--I got 17 out of 24 predictions--but it made for one snooze of a night. Maybe if I'd had some skin in the game it would have been exhilarating instead of utterly predictable. Note to self: gamble more.
Here's the interesting stuff I learned last night, all of which was reported during E!'s red carpet broadcast, which is the first year that the red carpet might actually have been more exciting than the show:
First, Mila Kunis reported that she was on a 1,200 calorie/day diet in preparation for Black Swan. That means two meals per day (based on a typical 1,800 calorie/day diet for women) plus she was doing tons of rigorous training for the ballet scenes.
Then in one of the news ticker headlines that ran along the bottom of the screen, I read that Hugh Jackman is on a 6,000 calorie/day diet in preparation for The Wolverine, which is going to be Darren Aronofsky's next movie. That's like taking everything Mila Kunis ate in a single day, and eating all of it FIVE TIMES, EVERY DAY. Jackman's wife told Ryan Seacrest that every day he basically eats an entire cow. (Or an entire Mila Kunis.)
So if you get cast in a Darren Aronofsky movie, you should know that you're going to find out what it's like to have an eating disorder.
Another bit of news: There's going to be a movie version of the 80's hair metal Broadway musical "Rock of Ages", starring Tom Cruise as Stacee Jaxx, lead singer of fictitious band Arsenal. Adam Shankman, who was last year's Oscars director, is directing the adaptation, and confirms that, in spite what you might think based on the "You've Lost That Lovin' Feelin'" scene from Top Gun, Cruise can sing.
Sure, OK, he can sing, but Tom Cruise is 49 years old. It makes sense to cast Tom Cruise in this role--if it was being made in 1985. As it is, we're going to watch him sing "I Want To Know What Love Is" and "Renegade" in a C.C. DeVille wig, and it's going to be compelling in a delusional, psycho-nostalgic way, and very creepy.