« Message to the Academy: Save Natalie! | Home | Status update on The Social Network »
February 6, 2011
The Clock: really cool video art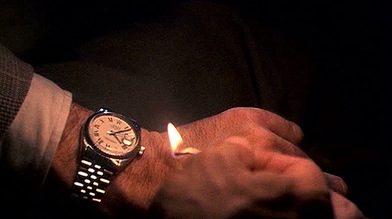 I went to see Christian Marclay's video art exhibit, "The Clock" at the Paula Cooper Gallery in Chelsea. I find a lot of video art to be a ponderous, humorless, overly conceptual snore. Reading the blurb outside the screening room can be more interesting than actually watching it. But this piece is my favorite video art ever. I spent an hour and a half there on Friday night, and if I could have had a pizza delivered to the gallery, probably would have stayed all night.
The piece uses clips of movies that include a shot of a clock or watch or reference to the time, and it's constructed so that the time in the movie clip is the actual time in the real world. I watched it from 11:30 PM until about 1:15 AM, so as you might guess, saw a lot of clips of cops staking out buildings, people getting woken up by a ringing phone, people realizing they'd missed the last bus, and endless clunky 80's clock radios. And a phenomenally cool montage of clocks striking midnight, accompanied by the kinds of scary or explosive things that tend to happen in movies at the stroke of midnight.
The clips are also linked thematically. If someone picks up a ringing phone and says "Hello?", we'll cut to someone in a different movie asking to speak to Walter (there are a lot of ringing phones in "The Clock") or a series of clips of people slowing descending the stairs into a dark, scary basement. We come back to some movies over and over again as the characters watch the hours tick by. We see the same actors again and again--I caught three Steve McQueen movies in just an hour and a half, and Vincent Price appeared in a whole lot of movies with creepy old grandfather clocks in the background.
A lot of the talk about this piece is about the inescapability of time, and the audience's constant awareness of time passing, both in the movie clips and in real life. Movies use the passage of time to create tension or draw out a scene in ways that have become clichés. In the NY Times article about the exhibit, Roberta Smith says, "Moviemakers have developed endless devices to make us aware of time's passage in their films, and to hold us in thrall, or suspense, within that artificial time -- while we forget about the real kind outside the theater." But I see the piece as primarily an exploration and adoration of movies. Time provides the structure and the framework, but the medium is movies.
Trying to identify the movie clips is both fun and aggravating. It's a lot like listening to a Girl Talk album--you'll see a lot of stuff you sort of recognize, but 8 seconds later it's gone, and you'll have that tip-of-your-tongue feeling again and again that will drive you kind of nuts, but keep you wanting more.
Recognizing the movies in "The Clock" isn't necessary, but it sure is fun to watch the incredible variety of movies Marclay found and see some stuff you know. Even if you can't identify the movies, the range of time periods and styles is huge. In just a couple of minutes, he'll use Gone With the Wind, The Crow, The Awful Truth, Sid and Nancy, The Hudsucker Proxy, Gosford Park, Mildred Pierce, What Lies Beneath, Now, Voyager, and Lolita. Plus some TV: "ER", "The X-Files", and (of course!) "24". You get silent movies, foreign movies, action, horror, Woody Allen, and Beverly Hills Cop.
What about sex? Yep! Nudity? Oh, yes! No editing. Also, movies that aren't in English don't have subtitles--what you see is what you get.
My dream for when I'm enormously rich is that I'll buy a copy of "The Clock" and install it in my living room as an actual time-telling device. "What time is it?," I'll ask, look at my video art installation, see DJ Stevie Wayne announcing the next song on her late-night radio show in John Carpenter's The Fog, and go, "Oh, it's 12:35."
You can see part of "The Clock" during regular gallery hours, 10-6 Monday-Thursday, or see the entire thing from 10:00 AM on Friday until 6:00 PM on Saturday for the next two weekends. Note: there will probably be a line if you get there between 11:00 and 12:00 at night. Word seems to have gotten out that midnight is cool.
Here's a BBC TV news story about the exhibit which incorporates some of the piece and some of Marclay's other stuff.

categories: Art, Movies, NYC, Robot-on-the-Spot
posted by amy at 12:36 PM | #
Trackback Pings
TrackBack URL for this entry:
http://amysrobot.amyinnewyork.com/mt/mt-tb.cgi/1187
Comments
Post a comment