« Those adorable Egyptians! | Home | The Clock: really cool video art »
February 3, 2011
Message to the Academy: Save Natalie!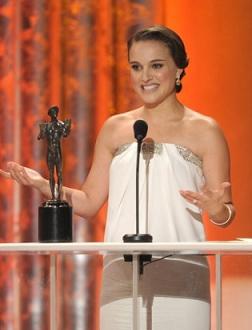 Over the last few Oscars seasons, we've seen anecdotal documentation of the Best Actress Curse: the phenomenon in which a talented actress wins accolades for her work, which triggers the collapse of her personal life. Examples include, incredibly, almost every single Best Actress winner of the past 10 years: Halle Berry, Charlize Theron, Kate Winslet, Julia Roberts, Reese Witherspoon, Sandra Bullock most recently, and the special case of Hilary Swank, whose marriage survived her first win in 2000, but not her second in 2005. Only Helen Mirren and Marion Cotillard still have their manfolk around.
Some analysis goes back to the 90's and finds even more examples: Helen Hunt, Emma Thompson, and Susan Sarandon (though in that last case, her relationship with Tim Robbins didn't break up until 13 years later.)
There's speculation that male insecurity is the root cause of the Curse. Some assume that, when an actress gets the highest award for her work, her husband, often also in the entertainment industry, can't handle his feelings of inadequacy when comparing his success to hers. In the Halle Berry example, one site asks, "When was the last time you listened to Eric Benet?" It could also be related to Best Actress winners becoming dissatisfied with the losers they married and deciding to make a play for George Clooney.
But now that everyone knows about the Best Actress Curse, and it's been validated by academic research (with a graph!), I think we have to lay the blame elsewhere. If members of the Academy are aware of the fate that will almost surely befall the woman they name Best Actress, shouldn't we be holding them accountable?
Which is why I'm asking members of the Academy, who just received their ballots and are now considering five innocent actresses, to remember that they hold the future happiness of poor little Natalie Portman, and the fate of her unborn child, in their hands.
Natalie is now engaged to her on-screen dancing partner Benjamin Millepied, who seems like a nice enough French ballet dancer, and is neither a scruffy beardy singer-songwriter, nor Moby. We should encourage their young love, even if Millepied ditched his longtime girlfriend a couple of months after meeting Natalie on the set of Black Swan, and even if Natalie's Golden Globes acceptance speech chronicling Benjamin's desire to impregnate her was the creepiest awards speech I've ever heard.
If Natalie loses, I give them two years. But if she wins, I hope the members of the Academy can live with themselves.
The other big contender this year is Annette Bening. How weird is it that her marriage probably stands a good chance of surviving a Best Actress win, when her husband is Warren Beatty?
Just think of the agonizing future Natalie Portman interviews on "Ellen". Aggghh. It would be enough to make me vote for Jennifer Lawrence, who's dating the guy from the British "Skins", so if that breaks up in two months, big whoop.

categories: Celebrities, Media, Movies
posted by amy at 12:23 PM | #
Trackback Pings
TrackBack URL for this entry:
http://amysrobot.amyinnewyork.com/mt/mt-tb.cgi/1186
Comments
Post a comment