In case you need more convincing about Community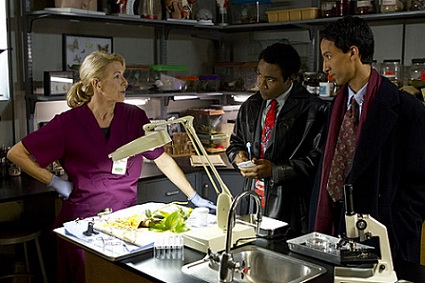 For those of you who aren't already committed Community fans, I offer into evidence last night's episode, "Basic Lupine Urology". You can watch the full episode on the show's website.
The episode is a meticulously-constructed Law & Order spoof, but it's so dense with jokes and references that it took me over 12 hours to even get the title: Lupine Urology. Dick Wolf. Ha.
The plot centers on a sabotaged biology experiment in Professor Omar From The Wire's class, with the study group's yam project discovered smashed on the classroom floor. But every single thing about the episode, from the opening sequence of the bantering janitors who discover the smashed yam and the credits sequence, to the harsh courtroom-style lighting and the quick little camera pans at the start of each scene that pull up to reveal the latest suspect that Briscoe and Green (or in this case, Abed and Troy) are investigating--everything looks and feels EXACTLY like Law & Order. It's masterful.
The show has done a bunch of other successful spoofs before, but they're usually pretty weird and esoteric (the Hearts of Darkness episode, the My Dinner With Andre episode) so this one might be the most accessible of the spoofs.
A few other details: Shirley plays a perfect Lt. Van Buren, there's a great Wire dialogue reference, a Michael Ironside cameo, and I'm pretty sure the autopsy technician who examines the smashed yam (above) is the same actress who plays the lab technician in the medical examiner's office on L&O! I'm in awe. After last week's technically incredible Dreamatorium episode and now this one, it's like falling in love all over again.
(Note: if you're not a fan of Law & Order, this episode would likely make you shrug and say "what's the big whoop?" Community is beloved by some people, but it's not exactly broad in its appeal. Which is why hardly anyone watches it, but those that do watch it go totally apeshit about it every week.)
In related news, the show's viewership is still steadily declining--two years ago, it was usually around 5 million viewers per episode, now it's below 3. Its inevitable cancellation is looming out there, but I'm impressed that the creators are defiantly sticking with the formula and making episodes the tiny but ferocious fan base will love.