« Damsels in Distress | Home | Real (Mad) Men and Don Draper the plumber »
April 9, 2012
Goon: Canadian minor league hockey = comic gold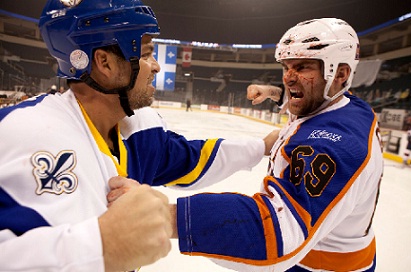 The most overlooked movie out right now might be Goon, the raunchy comedy starring Seann William Scott that doesn't involve Stifler or his mom. Goon is a hockey comedy and it's the best extremely realistically violent movie I've seen in a very long time. The violence in Goon isn't about being artistic or stylized, it's about showing you what it's like to stop a puck with your face while a bunch of Quebecois meatheads spit on you. Hilarious!
There are lots of reasons this movie should be doing better than it is (it's only made $4 million at the box office.) Hockey is a perfect subject for a filthy-mouthed sports comedy (e.g. Slap Shot), the script is by Evan Goldberg (who wrote Superbad with Seth Rogen) and Jay Baruchel, two Canadians from the Judd Apatow school of inept, lovable man-children and and good-natured dick jokes. It stars Seann William Scott, who bulked up into a thick-necked bruiser for this role. An inspired casting choice, Liev Schreiber plays an aging icon of Canadian hockey brutality with a spectacular handlebar moustache and authentically flat a's. I think it's the best role I've ever seen him do. And Alison Pill as the rowdy, slutty hockey fan love interest--she's fantastic in everything I've ever seen her in (Scott Pilgrim, Milk, Midnight in Paris) and she's a riot in this.
Sometimes Seann William Scott goes a little too far with the dumb lug routine, but mostly he plays the character as a sweet, sincere boy from Mass who loves beer and mashing the opposing team's faces with his big meaty fists. The character is based on real-life Doug Smith, an enforcer in 1980's hockey. The biggest change to the character was to make him Jewish (his last name is now Glatt), which was important because it allowed Eugene Levy to be cast as his dad and for fans at the games to hold up signs saying "GLATT is Hebrew for FUCK YOU!"
It's probably not going to be in theaters much longer, but you can watch it on demand. Here's the red-band trailer.
categories: Celebrities, Movies, Sports
posted by amy at 1:49 PM | #
Trackback Pings
TrackBack URL for this entry:
http://amysrobot.amyinnewyork.com/mt/mt-tb.cgi/1294
Comments
Post a comment