Obsure Olympic events
Have you seen the Olympics photo collections that the NY Times has been publishing every day? They're really amazing. It's a more interesting and varied way to see what's happening everyday without all the extra stuff on TV like backstories about athletes' moms and Ryan Seacrest.
NBC is doing an OK good job in their coverage, but they focus so heavily on American athletes that any sport without a leading American contender or team doesn't get much airtime. Plus, have you noticed how long it takes them to show the scores in women's gymnastics? Everyone on the floor starts reacting to scores that none of us can see, and they're hugging and crying or pursing their lips in stoic resignation, and I'm sitting there shouting SHOW US THE SCORE ALREADY! It's frustrating.
Also, there are all the cutesy little features that NBC produces, like last night's bit with Mary Carillo talking about props in the James Bond movies, then riding around in an Aston Martin and screaming, which they show instead of, say, women's handball. Which thanks to the NY Times I have learned is an incredibly tough and hardcore sport where players do things like this to each other: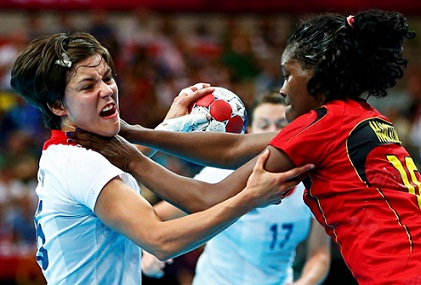 Wow! And I thought handball was that game Latino guys play in the area of the park with half-size tennis courts, though Wikipedia says the Latino guys are playing something confusingly called "Gaelic handball". The Olympians are playing "Team handball".
And there are other sports I would have no idea about without the Times photo streams. For example, did you know men's field hockey is an Olympic sport? Maybe I missed this because American men don't typically play field hockey, so NBC's coverage is minimal.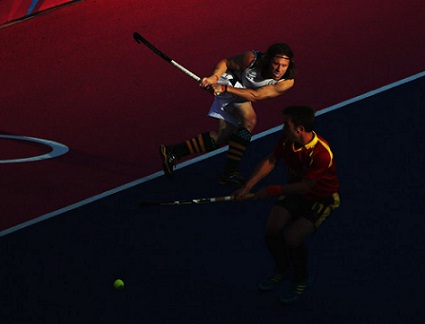 And how about women's trampoline gymnastics?
News to me.