« McChrystal: the Stillwater of the U.S. Military | Home | "Freaks and Geeks" is on! »
June 25, 2010
World Cup in America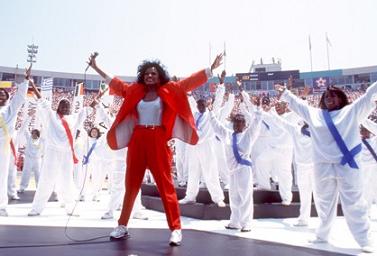 Now that the US team has done well enough to advance to the next round, it's time for World Cup fever to sweep America! We like sports that we're good at. The game against Ghana tomorrow afternoon (2:30 on ABC!) is probably going to be the most watched soccer game yet this year.
The first time I remember being aware of the World Cup was in 1994, when it was hosted here in the US. In doing some research about that year's tournament, my friend T-Rock happened upon the description of the opening ceremony, which was held in Chicago. Here's the Wikipedia entry. It keeps getting better:
The opening ceremony of the World Cup was held on 17 June at Chicago's Soldier Field. Numerous dignitaries attended, including US President Bill Clinton, Chancellor of Germany Helmut Kohl and President of Bolivia Gonzalo Sánchez de Lozada. The ceremony was emceed by Oprah Winfrey.
In addition, Daryl Hall, Jon Secada and Diana Ross gave musical performances. Ross was also supposed to kick a football into the goal from the penalty spot at the end of her performance, with the goal then splitting in two as part of a pre-orchestrated stunt. She kicked the ball wide to the left, missing the goal, but the goalposts were collapsed anyway in accordance with the stunt plans.
From the American perspective, the most important aspect of the 1994 World Cup is definitely the video for Daryl Hall's horrific theme song, "Gloryland", which plays sort of like a 9/11 tribute video combined with a Disney World ad. It also features segments from the opening ceremony, which demonstrate that even a serious sports country like the United States is powerless to resist creating a big ridiculous Eurotrashtastic explosion of kitsch when planning a soccer-related gala event:
You can watch just Diana Ross's failed penalty kick and exploding goalposts here. For future reference, don't stage the crescendo of your globally televised soccer event around a 50 year-old diva scoring a goal.

categories: Celebrities, Culture, Music, Sports
posted by amy at 12:08 PM | #
Trackback Pings
TrackBack URL for this entry:
http://amysrobot.amyinnewyork.com/mt/mt-tb.cgi/1125
Comments
Post a comment