« Maybe this Al Pacino is a decent actor | Home | World Cup in America »
June 23, 2010
McChrystal: the Stillwater of the U.S. Military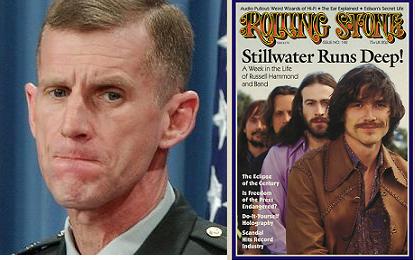 Tough break, General McChrystal. Yammering to Rolling Stone about your ineffectual boss was a terrible idea, but it really seems like he lost sight of how his words would sound outside of the Paris bars where he hung out out with journalist Michael Hastings.
The issue of Rolling Stone won't hit the stands until Friday, and it's already the most significant/disastrous article of the year. It's worth reading. We already know about all the disses on Obama and no-nonsense military tough-talk, but there's some funny and surprising stuff in there, too. McChrystal sounds like a guy who's serious about his job, totally dedicated to his soldiers, misguidedly wedded to his counterinsurgency fantasy, and almost superhumanly disciplined. With the notable exception of his tendency to mouth off to reporters.
A couple of interesting bits:
McChrystal allegedly eats only once a day, and in the month (!) that Michael Hastings spent around him, he witnessed him eating exactly one time
His staff refers to themselves as "Team America", referencing the movie by the South Park guys in a way that causes me a lot of confusion about their degree of self-awareness
He's tighter with Karzai than the US ambassador or any other civilian government reps
He was personally involved in the cover-up of Pat Tillman's death by a fellow soldier in Afghanistan, one of the darker moments of this war
He wrote 7 short stories for the West Point literary journal while he was there
Michael Hastings did a short interview with Newsweek (his former employer) over the turmoil his piece has created, and discusses why McChrystal was so open with him. Specifically: he has no idea.
He's still in Afghanistan now, and says that he doesn't know why McChrystal agreed to talk to him in the first place. But it does seem like a lot of the more candid (aka ill-advised) stuff might have come out because a) they were in Paris and Berlin for some of the time, rather than in Afghanistan, and b) what was supposed to be two days of interviews turned into a month because of the the Icelandic ash cloud.
So I guess things got a little looser as time went on, and McChrystal and his staff probably stopped thinking of Hastings as a journalist. It happened in Almost Famous, when Stillwater got a little too cozy with their 15 year-old Rolling Stone reporter, and I guess it happened in real life, too.
One other interesting thing about Michael Hastings: he's also the guy whose girlfriend visited him while he was working for Newsweek in Baghdad as part of her job with a political nonprofit, and while she was there got killed in a Sunni ambush. He wrote a book about it.

categories: Media, Movies, Politics, War and Security
posted by amy at 2:21 PM | #
Trackback Pings
TrackBack URL for this entry:
http://amysrobot.amyinnewyork.com/mt/mt-tb.cgi/1124
Comments
Post a comment