« World Cup in America | Home | Harold & Kumar, numero 3 »
June 30, 2010
"Freaks and Geeks" is on!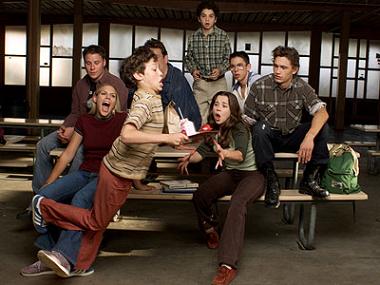 One of the most talked-about TV shows of all time that nobody watched while it was on the air is "Freaks and Geeks". It's one of my favorite shows ever, and today's big news is that IFC is going to air the entire series, starting this Friday!
The show gets so much attention now because it represents the earliest stage of what has become the Judd Apatow Juggernaut: that group of writers, directors, and actors who have dominated the R-rated comedy scene since 2005's The 40 Year Old Virgin. The show was the brainchild of Apatow, Paul Feig (who went on to do "Arrested Development" and "The Office") and Mike White (Orange County, School of Rock).
The stars have almost all gone on to bigger things: James Franco, Seth Rogen (at a tender 17!), Jason Segel, Linda Cardelleni, and Busy Philipps all got their start on the show. My very favorite actor on the show is Martin Starr, who's now an awesome character actor and has become handsome and sort of beefy--surprising, considering how good he was as super-nerd Bill Haverchuck on the show.
(In other news, Martin Starr's latest show "Party Down" just got canceled by Starz.)
Anyway, "Freaks and Geeks" was an hour-long comedy-drama about being in high school in Michigan in the mid-80's. It's hilarious and nostalgic in a non-manipulative way and heartbreaking and great. If you missed it when it ran for all of 18 episodes in 1999-2000, now's your chance.
It airs on IFC on Friday, Monday, and Sunday nights. In a few months, IFC is also going to run the entire series of "Undeclared", which was the next show produced by most of the same people. That one's about freshman year of college. It was pretty uneven and never reached the greatness of "Freaks and Geeks", but it does feature a great performance by Jason Segel as the obsessive hometown boyfriend of the main girl who during one episode comes to visit her on campus--he's completely unnerving and manic, and it's the best thing he's ever done.
When IFC was airing "Arrested Development" a few months ago, if I ever happened to come across it while flipping around the channels I would always sit and watch the episode, even though I've got the DVDs sitting right there under the TV. I'm sure it will be exactly the same with "Freaks and Geeks"--it's just more exciting to be lucky enough to catch a favorite episode on TV, plus no commercials.
IFC has gotten really good at picking my favorite shows. What's next? "Spaced"?
categories: Celebrities, Movies, TV
posted by amy at 4:41 PM | #
Trackback Pings
TrackBack URL for this entry:
http://amysrobot.amyinnewyork.com/mt/mt-tb.cgi/1126
Comments
Post a comment