« No lollygagging for Terrence Malick | Home | Band reunion »
February 8, 2010
Watch the game, hate your life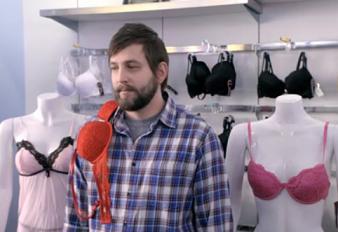 I noticed a theme in some of last night's Super Bowl ads: in addition to the usual inscrutably unfunny Doritos ads and unoriginal but instantly recognizable Go Daddy ads (those people really understand brand consistency) there was an undercurrent of male misery. It's standard for ads to make the viewer feel uncomfortable or insecure, then offer the product as a solution to your self-esteem problem, but a couple of these ads suggested that the problem in your life is not really your athlete's foot--it's your girlfriend.
The Dodge ad was an especially bitter girl-hating ad, which is odd, considering that it's basically one long whiny bitch fest (with a few pissy little jokes thrown in.) It features lots of guys looking directly into the camera, with a voiceover listing all the indignities they suffer as part of living with a woman, such as being forced to separate the recycling. Life for a man, according to this ad, is an endless series of irritations piled on by that bitch you married (or who's pressuring you for a ring, probably) and the only recourse is to drive a Dodge, the one thing in this world she can't take away from you.
Geez, guys, if it's really that horrific to pick up your underwear, you could find a lady with less stringent household tidiness expectations. Or support Chrysler by suffering in silence and driving a shitbox car.
Then there's the poor doofus who let his girlfriend drag him along underwear shopping (above) instead of letting him watch basketball. Another hapless fellow whose simple yearning for happiness has been denied by his selfish cow girlfriend who needs a new bra. Poor, poor widdle man!
The long-suffering man ad that I did like was the one for Dove Men, which is admittedly an absurdly tough product to try to sell during the Super Bowl. Anyway, the Dove Men approach is to depict one man's life, from fetus to adulthood, and the many challenges he has faced and overcome along the way. Living with a lady in this ad can also be a trial, but these difficulties are shown as small victories to be proud of rather than opportunities to complain about how much women suck. And it's funny. A decent ad.
Actually, the Dove Men ad is probably targeted exclusively to women. How many guys out there are going to purchase Dove Men bodywash at the supermarket? They could at least rebrand this line to something like Falcon or, to continue the political metaphor, Hawk. This ad probably presents a less toxically bitter attitude toward women because they're the buyers. (Though I see that Dove got last night's MVP Drew Brees to appear on the website, lathering up a very masculine and non-drying foam in the shower.)
My favorites were the Kia ad about toys going out on the town (particularly the shot of the robot and a human in a Vegas club, both doing the robot) and the Audi ad using Cheap Trick's "Dream Police" as a soundtrack for scenes of an army of draconian eco-fascists handcuffing people for using styrofoam cups. I love it.
You can watch all the ads on Hulu, though you have to watch a few seconds of a Coke ad before you watch each of the other ads, which seems unjustifiably cheap.
categories: Ads, Business, Culture, Gender, Media, Sports
posted by amy at 1:43 PM | #
Trackback Pings
TrackBack URL for this entry:
http://amysrobot.amyinnewyork.com/mt/mt-tb.cgi/1076
Comments
Post a comment