« Anil Kapoor pretends to be Middle Eastern on 24 | Home | Adventureland »
April 6, 2009
WWE indulges Mickey Rourke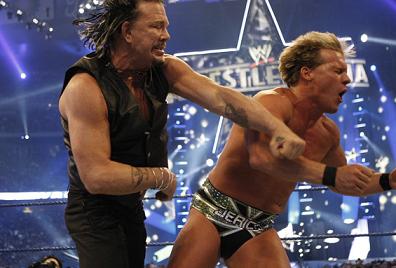 This is a photo from WWE's Wrestlemania 25, taken last night in Houston. It's Mickey Rourke, a fake wrestler, punching out Chris Jericho, an actual wrestler. Or at least Jericho is an actual pro wrestler, which makes him a real fake wrestler, while Mickey Rourke is just a fake fake wrestler.
Since The Wrestler came out late last year, Mickey Rourke has been talking all kinds of smack about wanting to get in the ring and do some actual wrestling. As already has been very thoroughly reported everywhere, he got into professional boxing before he started acting, and again during his slow acting period in the 90's, and actually did OK.
Playing Randy "The Ram" Robinson in The Wrestler encompasses many overlapping levels of reality and make-believe for someone like Mickey Rourke, and the experience seems to have steered his second career away from boxing and toward scripted, choreographed bouts that you can watch on pay-per-view. On Sunday night, upstart whippersnapper Jericho challenged Hall of Famers "Rowdy" Roddy Piper, Jimmy "Superfly" Snuka and Ricky "The Dragon" Steamboat to a 3-on-1. He beat them all handily, then started taunting Mickey Rourke, who was in the audience.
Rourke then surprised everyone* by stepping into the ring and delivering some bare-knuckle boxing moves. From WWE's coverage: "The star of The Wrestler entered the squared circle, but soon decided he'd heard enough of Jericho's relentless taunts. Rourke, a former boxer, swung a slew of heavy fists at his tormentor, finishing with a punch that dimmed the lights of the conceited Superstar and dropped both him, and his pride, to the mat." Then he walked off the stage in victory with Ric Flair, one of my childhood favorites.
Here's video, and some more photos.
It's probably psychologically dangerous to indulge the fantasies/delusions of a loose cannon like Mickey Rourke and let him out-perform guys who have been doing this since the 70's, but it makes for good pretend entertainment. Meanwhile, the Iron Man 2 insurers are wondering what they've gotten themselves into. Hopefully he won't get as submerged in his role in Stallone's South American mercenary movie The Expendables.
*not really
categories: Celebrities, Movies, Sports
posted by amy at 11:32 AM | #
Trackback Pings
TrackBack URL for this entry:
http://amysrobot.amyinnewyork.com/mt/mt-tb.cgi/957
Comments
Post a comment