« Who'dat?™: Rock legends | Home | Resting in peace »
December 11, 2007
Networks are screwed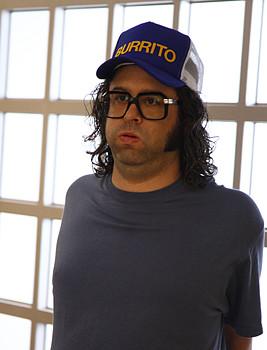 The WGA strike has been going on for over a month now, and nothing's going on with negotiations to suggest we'll get our TV back any time soon. The Daily News gave a rundown today of how many episodes are left for a bunch of shows.
It's mostly looking pretty bad. For shows that you might actually watch, we've got "30 Rock" with 2 remaining shows, ""Ugly Betty" has 3, "My Name Is Earl" has 1, and "The Office" and "Heroes" are already out. "Scrubs" has 5. Shows that I can hardly believe are still on the air, like "Smallville" (7 episodes) and "Las Vegas" (8!) seem to be doing OK. And two new shows that I don't believe anybody in America has ever watched, "Cavemen" and "Carpoolers", are both good through February with 8 episodes left each, but I think we can assume that once those run out they'll be gone forever.
"Lost" has 8 episodes done, so when the next season finally starts we'll all have plenty of time to start watching, get into it for a week or two, become disillusioned when it inevitably starts sucking again, vow to stop watching, and then maybe grudgingly catch the last episode before it goes off the air again. Just like last year. The website doesn't list a season premiere date, but suggests it might be sometime in February.
Meanwhile, advertising is tanking. Maybe the viewing public has already given up on the networks and is devoting all its time to watching the Superbad DVD and trying to sit through that terrible "Tin Man" miniseries on SciFi. Poor beleaguered NBC has had to pay its advertisers back $500,000 for each show that failed to make ratings, which I think is pretty much all the shows it has. The only show they have that makes the Top 20 is "Law & Order: SVU", and they only have 4 episodes left of that one.
Reality shows are still going full speed ahead, since those writers aren't in the union. But surprisingly enough, a TV marketing exec tells Reuters "too much reality just doesn't play well with advertisers," so NBC can make all the "Celebrity Apprentice" episodes it wants and still not bring in much money.
Some good TV news: "The Wire" will be back on HBO in January, and CBS is going to air a new miniseries in January called "Comanche Moon". It's based on a Larry McMurtry novel, the prequel to "Lonesome Dove", and stars Steve Zahn and Karl Urban as the two rapscallion Texas Rangers Gus and Woodrow. It's by the same director as the "Lonesome Dove" miniseries from 1989, and should be pretty great.

Trackback Pings
TrackBack URL for this entry:
http://amysrobot.amyinnewyork.com/mt/mt-tb.cgi/756
Comments
Post a comment