« What it was like to make The Hurt Locker | Home | Runaways! »
December 14, 2009
Where the hell has Julianne Moore been?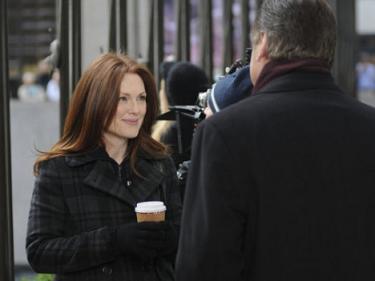 Over the weekend I watched last week's episode of 30 Rock, and there was guest star Julianne Moore, playing the cutest girl in East Sandchester High School's Class of '76, Nancy Donovan. She was so funny and gorgeous, and even if her Boston accent was a little uneven (her "I wanna sit on it and play a boh-uhd game!" was totally weird and great) I was delighted to see her again.
Because, really, when was the last time you saw Julianne Moore in anything? Here's her IMDb page. For me, it was when she played the Joan Baez-esque person in I'm Not There, and that was two years ago. Before that, she had a couple of scenes in Children of Men in 2006.
The heyday of Julianne Moore seems to be over. Between Boogie Nights in 1997 and The Hours in 2002, she was in tons of stuff: Magnolia, The End of the Affair, Hannibal, Far From Heaven--some great movies, some not so great, but all were important in their own way and did pretty well.
Since then, things haven't looked so hot for Julianne. She's gotten into some pretty terrible desperate mom movies with The Forgotten (spoiler!: aliens took her kid) and Freedomland (spoiler!: she accidentally killed her kid) and other questionable stuff like The Prizewinner of Defiance, Ohio and Nicolas Cage's schlocky psychic Next. Then there was Blindness, which I don't think anyone saw, and now she's in Tom Ford's adaptation of Christopher Isherwood's A Single Man, which looks OK, I guess.
It's high time for Julianne Moore to have a starring role in a big, great movie. Paul Thomas Anderson could use her again, but he doesn't seem to be working on anything. She's got something coming up with Lisa Cholodenko (who did Laurel Canyon) called The Kids Are All Right that could be OK, and some Barry Levinson adaptation of a Larry McMurtry novel about a gutsy pioneer woman called Boone's Lick, which despite the title is probably not a porny comedy.
At least one of these had better be at least as good as her re-enactment of "Hey, Beantown!" with Alec Baldwin.

categories: Celebrities, Movies, TV
posted by amy at 3:37 PM | #
Trackback Pings
TrackBack URL for this entry:
http://amysrobot.amyinnewyork.com/mt/mt-tb.cgi/1058
Comments
Post a comment