« Preteen vampires | Home | New trailers »
October 23, 2008
Post leads the fight to save America's breasts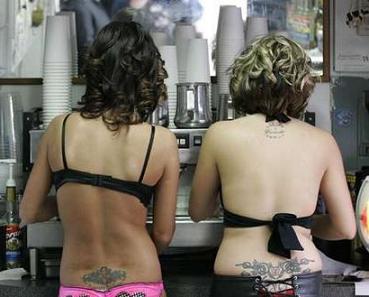 Today's NY Post reveals an alarming new study that finds drinking coffee can make your breasts smaller. In "Women Face Shrink and Drink Dilemma: Coffee Poses A Booby Trap", women are urged to consider the very real risk of caffeine shrinkage, the future of their breasts, and the happiness of our nation when reaching for their morning coffee.
"Drinking coffee can have a major effect on breast size," says one of the Swedish (of course) researchers who conducted the study. Especially, because there is no justice in this world, women with large breasts. "They will get smaller, but the breasts aren't just going to disappear," she added. Well that's a relief.
The Post goes on to conduct their own photographic study of "small-chested celebrities", including Catherine Keener, the Olsen twins, Natalie Portman, and Cameron Diaz, which I suppose is meant to lend some sort of credence to the scientists' findings. Or maybe console readers who love coffee-- sure, you'll lose your tits, but guess who's sort of flat too? The cute cheerleader on Heroes!
As an aside, at the very end of the article, the Post notes that the purpose of the study was actually to determine any link between caffeine and breast cancer. Caffeine makes you more resistant to tumors. If you don't mind being flat as a pancake, that is.
Added bonus for coffee-drinking men: caffeine actually makes your man-boobs bigger!

Trackback Pings
TrackBack URL for this entry:
http://amysrobot.amyinnewyork.com/mt/mt-tb.cgi/885
Comments
Post a comment