Hell's Kitchen dancers, Hell's Kitchen pervs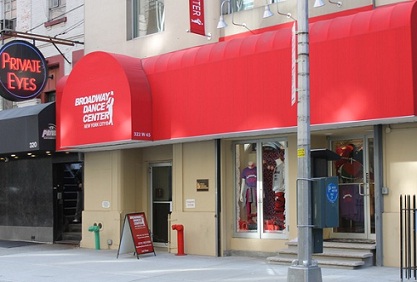 There's an article today about a stretch of West 45th Street where a fascinating diversity of New Yorkers intersect. There's the Broadway Dance Center, a high-level school for aspiring young dancers that's been around for decades, and right across the street, there's a hotel for homeless people. Students and parents with kids at the school just learned that three sex offenders live (legally) at the hotel, including one guy who abused a 9 year-old, so now they're concerned. One 19 year-old student says, "We go home by ourselves every night at 11. It's dark and bad things could happen."
In addition to housing sex offenders, there have been violent incidents in the hotel, like a woman arrested for attacking a man with a knife a few weeks ago, who yelled "I'm the victim!" as she was led away. Residents of the hotel (and actually, anyone on the sidewalk) can see the Broadway Dance Center students dancing through large windows that face the street.
What this article doesn't mention, and the parents don't comment on, is the strip club immediately adjacent to the dance school, Private Eyes. You can see the sign in the photo above. I've long been amused by the variety of dance styles offered in one convenient midtown location.
All kinds of questions come to mind. Like: Do parents and students have any concerns about all the non-traditional forms of dance going on next door, while Broadway Dance Center students are walking home? Are parents worried about the Private Eyes patrons hanging around outside eyeing their 19 year-old daughters during ballet class? What about the Private Eyes dancers, many of whom are probably the same age as the students--is it dangerous for them to walk home after work past convicted rapists?
On a more practical level, do recruiters from Private Eyes visit the Dance Center to tell students about the job opportunities available to them after they finish Jazz, Tap, and Modern? Do Private Eyes dancers ever brush up their technique with a few Street Jazz Funk classes next door? Broadway Dance Center actually offers a class called Stiletto Heels, which seems like a perfect cross-over for students looking for an immediately lucrative career, right in the neighborhood.
One concerned mom with a daughter taking ballet says she doesn't like that the guys in the homeless hotel can watch her daughter during class. "The kids are all wearing tights, but they might as well be naked." She really said that, I swear.