« Spidey: That's what $65 million looks like | Home | Those adorable Egyptians! »
January 31, 2011
Women and Wikipedia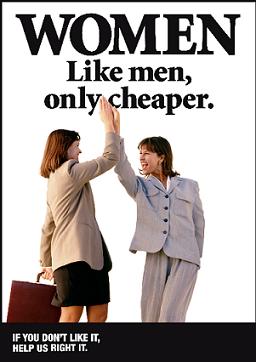 Wikipedia has determined that only 13% of its contributors are women. The site's usefulness depends on all kinds of people sharing knowledge about subjects they're interested in. Everybody benefits when the knowledge of a vast number of individual people is centralized in one place, and Wikipedia has done a fantastic job at collecting individual knowledge -- of guys in their mid-20's.
The Times article about the low contribution rates of women includes surprised speculation from people in media and computer studies about why this might be. I don't want to be cynical, but do these people live in the same world I live in?
Let's look at some major areas of public life:
Sensing a trend?
Of course there's a big difference between becoming a Senator or a CEO of a big company and contributing to a Wikipedia article. ANYONE can write something on Wikipedia. You still don't have to register with the site to add some verifiable facts to an existing article, and there's a help page for new contributors.
Since women's knowledge is so radically underrepresented in Wikipedia, we're all losing out. I don't know about you, but I probably look something up on Wikipedia every day. I don't want to only find what dudes are interested in up there.
Two examples in the Times article: "Is a category with five Mexican feminist writers impressive, or embarrassing when compared with the 45 articles on characters in The Simpsons?" "The entry on Sex and the City includes only a brief summary of every episode, sometimes two or three sentences; the one on The Sopranos includes lengthy, detailed articles on each episode."
Sure, it's just pop culture, but this is part of what happens when women are in so few visible leadership positions. As Catherine Orenstein, founder of The OpEd Project says in the Times piece, "When you are a minority voice, you begin to doubt your own competencies." Fewer women in media, business, and government seems to also mean fewer women and girls sharing a bit of knowledge in an online article about TV shows, authors, historical figures, cities, bands, or artists they like and know something about.
Contributing to Wikipedia doesn't require leadership or ambition, but it does require women and girls to think, "I have something to say", and with few exceptions, that's not happening. Boys and men obviously think they have plenty to say, and they're already saying it awfully loudly and in painstaking detail. Ladies: please speak up, I can't hear you.
In thinking about the small numbers of women in leadership positions in business, I realized that at every single job I've had since college, the person at the top has been a woman. This now seems incredibly statistically improbable, and I feel really lucky.
[Note: a reader points out that Wikipedia is intended to be a repository of known facts, not personal analysis or research, as described in the No Original Research entry. My point remains that contributors reflect their own personal interests by adding facts to an entry, making the whole of Wikipedia a sum total of the interests of its contributors, so if those contributors are 87% dudes, well, you get a lot of stuff about Matchbox cars and Civil War Reenactments.]

categories: Business, Gender, Media, Movies, Politics, Women, Work
posted by amy at 12:21 PM | #
Trackback Pings
TrackBack URL for this entry:
http://amysrobot.amyinnewyork.com/mt/mt-tb.cgi/1184
Comments
Post a comment