Spitzer changes his mind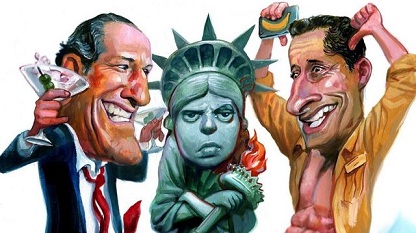 Many thoughts spring to mind about Anthony Weiner and Eliot Spitzer entering this year's NYC elections. Can a politician come back after resigning in shame? And do voters even care about embarrassing sex scandals? (In the case of Mark Sanford, I guess not.)
What's also springing to mind are the icky details and images we all have of these guys' gross, inappropriate, and/or illegal sex lives, unavoidably returning to our consciousness. I never wanted to think about, for example, black socks in relation to Eliot Spitzer again, for example, but there they are, rising from the dark corner where I had mostly repressed it. (Even if that detail turned out not to be true.)
I've also been thinking about a really good interview from Spitzer in Vanity Fair from 2009, just over a year after the scandal and resignation. In conversation with John Heilpern, he reveals a surprising level of sincerity and regret about his actions and how he betrayed his family and the public. When I first read it, I actually felt a little sorry for the guy:
"I make no excuses," he emphasized, staring at me earnestly. His contrition was palpable. He explained that he tried to do good as governor and before that as attorney general. "Then I sinned and created trauma."
"You knew the risks. Either you felt you were above the law or you had some kind of death wish."
His response was that neither was the case. "It's a story that has been repeated since our earliest days as a species. It's both obvious and not susceptible to an answer," he insisted. "Nonetheless, we are led down a certain path. It wasn't hubris or a death wish--but frailty, temptation, and common miscalculation."
...
"Do you think the scandal will ever go away?," I asked.
"No. My obituary's written," he replied with shocking finality. "And that is a very hard thing to live with." When he turned away, I could see he was in tears.
When asked if he'd ever return to politics, he said, "I've a hard time seeing politics as a career. I wouldn't want to put my family through the agony." Well, his family's agony must be less of a concern these days, because I'm sure they've had a horrible week since he announced he was running for office again.
Spitzer's name recognition alone is probably what landed him at the top of a recent poll, though he does have certain qualities that would make him a perfect candidate for the job. He's not afraid to stand up to powerful corporate interests in protection of the public good, which these days is so unusual that it's automatically appealing. But he went about his vigilance against wrongdoing in a hyper-aggressive, asshole-ish kind of way, making the entire financial sector hate his guts. I half love this about him and half think it shows a stunning lack of judgment. When it turned out he was hiring hookers while fighting publicly against sex trafficking, the "asshole with bad judgment" characterization got a lot of extra points.
Given the uninspiring list of candidates we're looking at for major offices, Spitzer's immoral/criminal past alone might not be enough for him to lose the primary, but the entire financial sector gleefully mobilizing their resources to bring him down probably is. A Crain's article about corporate bigwigs responding to the Spitzer (and Weiner) candidacy shows a fascinating combination of nervousness and salivation. "This is very serious business," one business leader said last week. "The mayor is a very serious thing. Comptroller is very serious. And they have a big impact on the economy and quality of life. So the question is, do either of these guys deserve to do that, or would they be good at it?" "Neither one of these guys has any friends in the business they were in," said one business leader. "That's part of the reason they fell so hard," he happily recalled.
I doubt these guys could care less about the prostitution scandal, but they'll use it however they can to remind voters about those black socks.