« Imagine college. Now imagine your roommate is Tracy Morgan. | Home | The Wrestler »
December 19, 2008
New Hampshire learning lessons from Katrina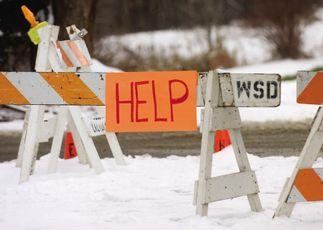 A huge ice storm wiped out a lot of New Hampshire last Friday, and a majority of the state lost power. Something like 30,000 people, mostly in remote areas, still don't have electricity or water a week later, and NH gets pretty freaking cold in the winter. (Disclosure: both Cushie and I have family that were without power for 6 days, and in some cases 8 days and counting.)
A few trends have started to emerge as people deal with the aftermath of the storm that are sad reminders of 2005 and the weeks and months (and years) that followed Hurricane Katrina. That crisis seems to have created a kind of blueprint for what happens after large scale disasters.
(Note: we're not trivializing all the horrors that people in New Orleans and the surrounding areas went through and are still dealing with. At all. We're drawing some parallels between situations that have some similarities but are totally different in scale.)
While most people in New Hampshire have gotten their power back, a few isolated areas are still waiting, and were told yesterday it might not happen until after Christmas. People in Brentwood, NH have started making signs asking for help that doesn't seem to be coming:
Residents frustrated with the conditions on the road, where trees and wires still obstruct traffic in a number of places, have placed a sign on a barrier that reads "Help" and "Forgotten by
Unitil
and Exeter DPW."
Just give it a few more weeks, people of Brentwood, and you might come up with signs as memorable as those we saw along the Gulf Coast ("We Are American, Where Is FEMA?", "Still Heer"), like the infamous big dog, claw hammer, ugly wife guy in NOLA.
Some looting has also started to happen in abandoned houses and businesses with non-functioning burglar alarms, but of course, with a special New England twist:
In the 12-hour period between house checks, someone had forced entry into the home and stole numerous items. Police captain Raiche said some of the stolen items included
seven rifles and shotguns
, jewelry and two high-definition, plasma televisions.
Another burglary occurred Friday night at the popular restaurant and nightspot Kelley's Row, located on Central Avenue in Dover. Police say someone forced entry into the restaurant while much of Central Avenue was in the dark that night.
"They have a burglary alarm but they didn't have power, so the alarm didn't matter," Raiche said.
A flat-panel television and $100 worth of lobster meat were stolen.
"We have very few leads at this point," Raiche said.
And there are problems with FEMA and resources sitting in a warehouse somewhere, not reaching the people who need them:
Dover resident Jim Alty told the Herald he had been told there were 53 generators, along with several pallets of water, at Pease national guard base. He said he was concerned they weren't getting to the people who needed them.
A call to Sherri Pierce, spokeswoman for the 157th Air Refueling Wing, confirmed they were there. "But they are not under our control," Pierce said. "They are under the control of FEMA."
If things keep getting worse, hopefully we'll get New Hampshire natives Adam Sandler or Sarah Silverman to say "George Bush doesn't care about rural people" on live TV.

Trackback Pings
TrackBack URL for this entry:
http://amysrobot.amyinnewyork.com/mt/mt-tb.cgi/913
Comments
Post a comment