« FDA backs Patrick Kennedy: sleeping pills can make you sleep-drive | Home | How to not get scammed »
March 15, 2007
Tell It Like It Is
If there's one thing Americans can agree on, it's that punching old ladies in the face is a despicable act. Last weekend's assault on 101-year-old Rose Morat, who was punched repeatedly in the face and robbed of $33 on her way to church, has caused an uproar from concerned citizens, community groups, Queens residents, seniors, the police, legislators, the press - you name it. Even worse is the fact that this seems to be a habit. The mugger allegedly also beat and robbed an 85-year old woman, Solange Elizee, shortly afterward. Ms. Elizee lost $32 and her wedding band. The reward for the attacker is currently up around $18,000.
But the question remains - what kind of a person would do this? What kind of a person assaults old ladies in their homes for just a few dollars?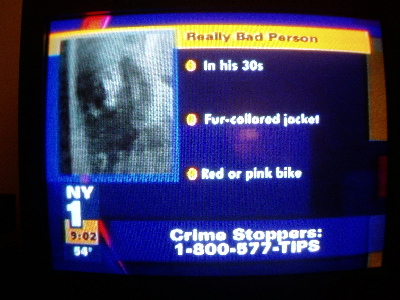 Also, apparently, the kind of person who wears a fur jacket and rides a pink bike.
Trackback Pings
TrackBack URL for this entry:
http://amysrobot.amyinnewyork.com/mt/mt-tb.cgi/631
Comments
Post a comment