« America is Still a Great Country | Home | Mourning in America »
November 4, 2004
The topic of this post is zombies
In these dark days of culture wars and political alienation, what hope is there for we Americans who just want to get along and live our lives and watch a lot of movies? What reason do we have to go on?
I'll give you a reason:
George Romero is making a fourth zombie movie: LAND OF THE DEAD
I know I don't have to say anything else here to give you a sense of optimism and joy in your disappointed and wretched lives, but let me give you just a few more details:
The cast features John Leguizamo, Asia Argento, and Dennis Hopper. Three of our favorite actors ever (we only include Hopper in this list because of his genius performance in 24 as Victor Drazen.) It also includes Shawn of the Dead's Simon Pegg in a "Zombie Cameo", surely one of the most desirable film roles ever.
Following the trend Romero established with his earlier zombie movies of referencing contemporary social issues (such as the Vietnam war and the civil rights movement in Night of the Living Dead,) this movie will deal with post-9/11 fears of terrorism.
It is being filmed almost entirely at night inside Toronto's BCE Place, an office and shopping mall. In the movie, this area is safe from the the hordes of roaming flesh-eating zombies, but it doesn't have everything the characters need. Romero says, "some of the protagonists have to go out into the real world to get things like food - and deodorant."
And, this is what Romero looks like now.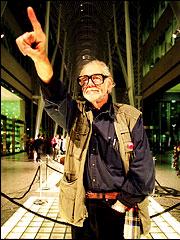 The movie will probably open next summer. We can't wait.
Trackback Pings
TrackBack URL for this entry:
http://amysrobot.amyinnewyork.com/mt/mt-tb.cgi/56
Listed below are links to weblogs that reference The topic of this post is zombies: