« Botched evacuation, take 2 | Home | Finally, a Company I Can Support »
September 26, 2005
Say it with candy
British officials refuse to apologize for last week's deadly raid on a Basra police station to release two undercover British soldiers being held there, or to offer special compensation to the families of Iraqis who were hurt or killed during the raid, or rebuild the police station. A British diplomat in Basra says, "Any citizen who was hurt can apply for compensation in the same way as if they had been hit by an army Humvee or truck."
The Guardian reports, "Many Basra residents are angry at what they said were 'suspicious' and heavy-handed tactics by the British military. The two soldiers, who were disguised in Arab dress, were arrested by Iraqi police then freed by British troops as tanks smashed down the wall of the police station. The raid infuriated locals, who set two British armoured vehicles ablaze and pelted soldiers with rocks."
The British, in a fit of diplomacy, have instead decided to give presents and a shitload of Starburst™ to some Basra orphans.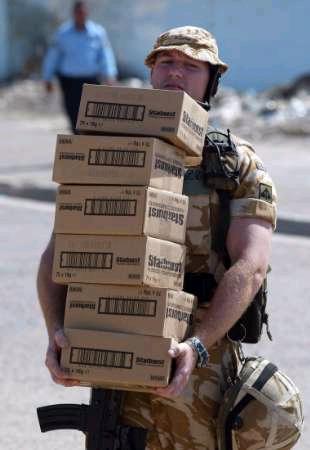 categories: Politics, War and Security
posted by amy at 10:50 AM | #
Trackback Pings
TrackBack URL for this entry:
http://amysrobot.amyinnewyork.com/mt/mt-tb.cgi/344
Listed below are links to weblogs that reference Say it with candy: