« Man, I was so wasted Friday night! | Home | The Ten--a comedy about sin »
August 2, 2006
Tzameti--now on tour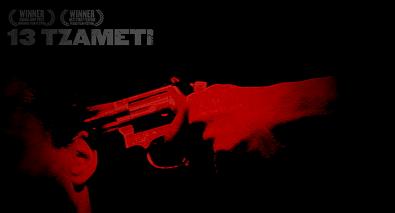 Last Friday, Tzameti (13) opened at Film Forum. As far as I can tell, this is the only place where you can see this movie in the US. It's by first-time Georgian director Gela Babluani, takes place in France, and is one of the most tense movies I've ever seen. 86 Minutes, black and white, in French and Georgian.
It's hard to know what else to say about this movie, apart from little bits of information about its production (for example, the star of it is the director's brother) because I really recommend that you see this movie, and because the less you know about it before seeing it, the better.
Seriously, don't read the IMDb or official site info too closely, don't read any reviews (the one in Time Out is appropriately secretive about the plot, but others reveal too much) and definitely don't watch any trailers. The one on the Palm Pictures website consists of the entire scene in which you first find out what is going on in this movie, and ruins the whole thing. What the hell are people thinking?
What I found so impressive about this movie is the way it uses violence (but not gore), slow-pacing, the sudden, stark revelation of what's really going on, and a few select moments of lightness once it starts unfolding to enhance the building intensity. It doesn't go for shock value in the same way that a movie like Saw does: it relies more on the straightforward, matter-of-fact acceleration of dangerous thrills than creative or elaborate violence. I've probably already said too much. Great movie. It made me gasp.
Though it's currently only playing in New York, Tzameti is going on tour to some other cities. Maybe someone's packing up copies of the film in a suitcase and bringing them from town to town, I don't know. Anyway, here's the screening schedule:
Fri Jul 28, New York, NY, Film Forum
Fri Aug 11, Los Angeles, CA, Nuart Theatre
Fri Aug 25, Washington, DC, E-Street Cinema
Fri Aug 25, Cambridge, MA, Kendall Square
Fri Sep 08, Chicago, IL, Century Centre Cinemas
Fri Sep 08, St. Louis, MO, Tivoli Theatre
Fri Sep 15, Atlanta, GA, Midtown Art Cinema
Fri Sep 22, Tucson, AZ, Loft Cinema
Fri Sep 29, Seattle, WA, Varsity Theater
Fri Oct 06, Scottsdale, AZ, Camelview Plaza 5
Trackback Pings
TrackBack URL for this entry:
http://amysrobot.amyinnewyork.com/mt/mt-tb.cgi/526
Comments
Post a comment