« MTV and Rhapsody: taking digital music a few steps back | Home | NY Daily News: Plan B a big success among tramps, jerks »
August 22, 2007
Yushchenko completes Monster → Hero transformation
Ukrainian President Viktor Yushchenko has had a rough few years. It probably hasn't been easy reforming his nation while fighting off political adversaries who poisoned him with dioxin back in 2004 and then led to several disintegrations of his government. And even though the scarring of his face from his near-death experience made him look scary and Frankensteiny, did that hold him back? No it did not!
And just because his arch-enemy Vladimir Putin is posing around for the media flexing his saggy man-boobs, in my opinion he's no match for good old Yushy Craterface.
Here he is "personally taking control of firefighting" in Ukraine, where forest fires have been burning for a few days.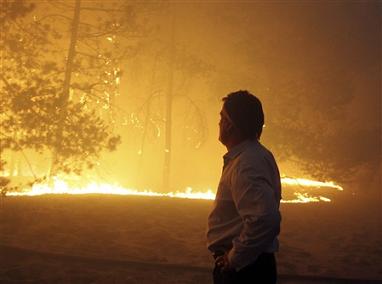 OK that's it. No more mean jokes.
categories: International, Politics
posted by amy at 5:20 PM | #
Trackback Pings
TrackBack URL for this entry:
http://amysrobot.amyinnewyork.com/mt/mt-tb.cgi/699
Comments
Post a comment