Catholic Church shifts gay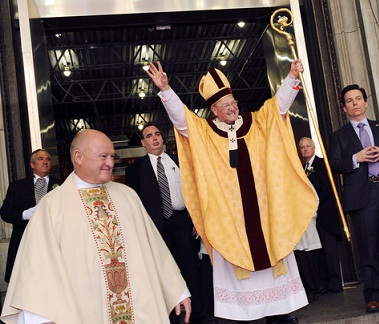 (I've fallen behind lately, so now I'm catching up on stuff from the past few weeks.)
We've all been hearing how our nation's recent pro-gay shift is one of the fastest cultural swings anyone can remember. Just a few years ago, most Americans were against same-sex marriage and most of the red states were busily amending their constitutions to ban it forever. Now the majority is pro-marriage equality, it's legal in more states, the Supreme Court is hearing important cases, Bill Clinton apologized for DOMA, and a few Republicans might even be starting a cute but probably doomed flirtation with equal rights (when it benefits them and their immediate families, of course.)
But the biggest surprise for me has been seeing some evidence that the Catholic Church might be reconsidering. This is an institution was still doing Mass in Latin in the mid-60's. But did you see the Times' article from a few weeks ago about Pope Francis and his behind-the-scenes attempt to get the church to support same-sex civil unions in 2010? Apparently while debates were going on in Argentina, where he was Cardinal, most bishops were flat-out against gay marriage. The Cardinal was publicly against it, too. But in private, the future Pope was trying to change the church's opinion--if the church still wouldn't perform same-sex marriages, what's the harm in supporting the government doing civil unions?
Anyway, he was voted down, gay marriage went through, and now it's legal. The Catholic Church lost, but Francis showed that he considers human rights and political realities in his doctrinal thinking. It will be interesting to see what he says now that he's Pope.
A few days ago, New York's Cardinal Dolan also spoke about marriage equality on This Week with George Stephanopoulos. It sounds like he was going for an approachable, humanist tone, but he came off with a standard "hate the sin, love the sinner" message that's more about being nice to gay people than making sure everyone has equal rights.
"We've got to do better to see that our defense of marriage is not reduced to an attack on gay people," he said. "And I admit, we haven't been too good at that. We try our darnedest to make sure we're not an anti-anybody."
[That "try our darnedest" stuff is exactly what he really sounds like--I happened to hear him speak at a marriage prep class, and he's full-on small town Midwest gee whiz. I can't tell how much of an affectation it is.]
He went on to say that gay people are entitled to happiness and "friendship", but they're disobeying God if they want to get married.
These aren't radical shifts, but with Cardinal Dolan happily proclaiming on national TV that he loves gay people and joyfully hoisting his disco stick (above) the new Pope's history of advocating for equal rights, it's going to be interesting time ahead.