« The latest on Wal-Mart in NYC | Home | Important Alternative Soda »
April 20, 2005
Rejoice, Opus Dei!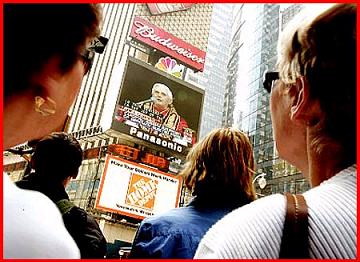 Our friend Norman K. pointed out a quote in one of the NY Times analysis pieces on the selection of Ratzinger as the new Pope, in which a priest from Oklahoma City who was watching the events yesterday in St. Peter's Square said of him, "He'll correct the lackadaisical attitudes that have been able to creep into the lives of Catholics. He's going to have a German mentality of leadership: either get on the train or get off the track. He will not put up with rebellious children."
Perhaps not the best choice of metaphors. Norman K. says, "Yes. The Germans have always been quite good at putting people on trains. And the last time it happened, I believe the Catholic church signed off on it. Not an auspicious metaphor for a Pope who was a member of Hitler youth. As a coworker of mine said yesterday, this Pope is a great choice for atheists, since he'll kill the church in Europe and North America."
It is a telling move when the church selects as its new leader someone who will appeal to the growing body of politically and socially conservative people in wealthy countries. I can only assume that the church has written off young or progressive Catholics who had already become disillusioned with the church, but this move will certainly push even more people away. It might be a good strategy for the next few years, as the world moves toward conservatism, but the next generation of Catholics will just keep getting smaller.
Another Times article takes a biographical view of Ratzinger, and refers to a biography by John L. Allen, Jr., who wrote about how Ratzinger's early experience with the Nazis helped form his (totally creepy) ideas about the role of the church. The biography says, "Having seen fascism in action, Ratzinger today believes that the best antidote to political totalitarianism is ecclesiastical totalitarianism. In other words, he believes the Catholic Church serves the cause of human freedom by restricting freedom in its internal life, thereby remaining clear about what it teaches and believes."
It's basically the opposite of liberation theology, which was central to Latin America's revolutions.
Meanwhile, German New Yorkers were celebrating yesterday, but many admitted it was largely for reasons of national pride, rather than admiration of Ratzinger. Peter Bleeser, a German priest at a parish in Westchester who knew Ratzinger in Munich says, "I'm happy it's a German, but I'm not very conservative and he is. He's an excellent theologian, very intelligent, but he's a strong conservative. Not much is going to change under him."
categories: International, NYC, Politics, Religion
posted by amy at 9:44 AM | #
Trackback Pings
TrackBack URL for this entry:
http://amysrobot.amyinnewyork.com/mt/mt-tb.cgi/225
Listed below are links to weblogs that reference Rejoice, Opus Dei!: