« Jerry Garcia, before the egg creams and heroin | Home | Presidents and email »
November 13, 2008
Gay big love rally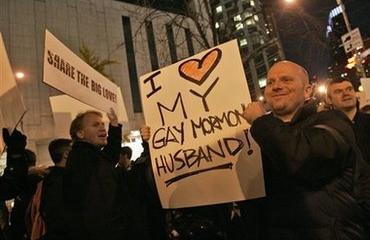 Gay marriage supporters held a rally last night outside the Mormon temple in Midtown to protest the same-sex marriage ban in California. It might not totally be the Mormon church's fault that the proposition passed, but the church did rally its members to vote in support of the ban.
But there were some awesome signs! This photo captures two of the best ones, "I Heart My Gay Mormon Husband" (a retake of the memorable and endlessly useful line from Heathers, "I love my dead gay son!" [video]), and the one next to it, "Share The Big Love".
That second one is really clever for a few different reasons:
It frames marriage as an expression of love, not just a state-regulated contract
It promotes the 3rd season of HBO's Big Love, which will start in January
It points out the hypocrisy of Mormons making gay marriage illegal while those same people at one time engaged in polygamy, a form of marriage which is also illegal, and maybe stopped doing it largely due to legal pressure.
Maybe Mormons are jealous of the gains others have made in legalizing their non-traditional form of marriage?
categories: NYC, Politics, Religion
posted by amy at 2:52 PM | #
Trackback Pings
TrackBack URL for this entry:
http://amysrobot.amyinnewyork.com/mt/mt-tb.cgi/898
Comments
Post a comment