« McDonald's is launching its latest | Home | Here's the San Francisco court »
September 2, 2003
This is so incredibly terrible,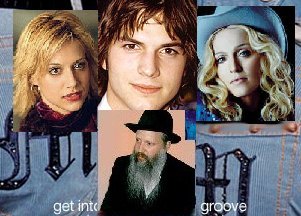 This is so incredibly terrible, I almost can't even stand it anymore:
ASHTON KUTCHER IS LATEST CONVERT TO KABBALAH. Make it stop! If this keeps up, God is going to personally come down here and kick everyone's ass.
Previous Amy's Robot entries on celebrity Kabbalah: Brittany Murphy signs up, Madonna and Missy Elliot settle dispute via Kabbalah, Madonna buys big house for study of Kabbalah. Oh yeah, and Guy Ritchie forced to rewrite script because it had too much Kabbalah in it.
When God finds out that Brittany and Ashton used to go out but aren't together anymore, and Ashton still wants to pursue Kabbalah, he is going to be really pissed.
categories:
posted by adm at 3:26 PM | #
Comments
Post a comment