« DNC Second Stage | Home | Being Rich (and poor) in America »
August 2, 2004
Robot Special Report: True Nature of Terrorist Plot Revealed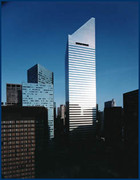 One of our special correspondents who works across from the Citicorp Center in Midtown Manhattan reports the most hideous consequence of tight security: Employees are being blocked from the Center痴 delis and surrounding coffee shops. This can mean only one thing: the true nature of Al-Qaeda痴 insidious plot is to destroy us with mind-control! Debilitated by caffeine withdrawal, the country痴 financial services employees will surely riot, possibly destroying their own office buildings.
Perhaps some of our DC and Newark-based readership can let us know how their communities are responding to the heightened security warnings. We'll keep you updated on all security developments, including our own attempts to drive a U-haul truck filled with furniture through Manhattan next Tuesday.
And dear readers, don't fear; Amy痴 Robot has never and shall never bow to pressure from terrorists. Should our financial institutions fall, we will continue posting from our steel-and-concrete bunker in an undisclosed Brooklyn location.
categories: War and Security
posted by Emily at 12:40 PM | #