« Halloween Parade | Home | Break the two-party stronghold »
November 3, 2006
Surprising suicide: Adrienne Shelly +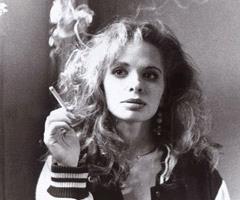 The Post reports that actress Adrienne Shelly was found dead in the Village apartment she used as an office on Wednesday, having apparently hanged herself from the shower curtain rod. Shelly was the star of two early Hal Hartley movies, The Unbelievable Truth and Trust, in the late '80's and early '90's, though her career never quite took off the way you might have expected.
Shelly did write and direct some movies, including 1999's I'll Take You There starring Ally Sheedy, and Waitress, which has yet to be released, but stars Nathan Fillion from "Firefly" and Keri Russell. Family members thought she was basically a happy person who wasn't on any medication. The Post reports an interview from 1996 in which she said things like "I might not live another seven years" [full text of interview].
In the same interview she quoted something her father said when he turned away agents who wanted to cast her when she was still very young: "I will not have my daughter jumping out of a window when she's 30." He was off by 10 years--Shelly was 40--but it seems his concern wasn't too far off base.
Those two Hal Hartley movies she starred in aren't the greatest movies ever made (there's a sort of hokey scene at the end of Trust where she tries to convince Martin Donovan that "respect plus admiration plus trust equals love") but she clearly had some real talent, especially for Hartley's style of deadpan comedy. Shelly was in her early 20's in these movies, though she plays a high school girl in each.
Cops are saying it looks like a suicide, though they are investigating a few suspicious elements of the case.
UPDATE: It wasn't a suicide after all. A construction worker in her office building got into an argument with her about noise, killed her, then arranged her body to look like a suicide. Horrible.
categories: Celebrities, Movies, NYC
posted by amy at 10:57 AM | #
Trackback Pings
TrackBack URL for this entry:
http://amysrobot.amyinnewyork.com/mt/mt-tb.cgi/574
Comments
Post a comment