« G.M.'s Very Bizarre Superbowl Ad | Home | 24 gets creepy »
February 6, 2007
Gavin Newsom goes to rehab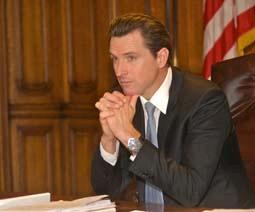 You knew this was coming.
After Thursday's announcement that San Francisco mayor Gavin Newsom had an affair with his campaign manager (and close friend)'s wife, he has finally accepted that the best way to apologize for his indiscretion and do some soul-searching about his behavior is to go to rehab. For alcohol.
"Upon reflection with friends and family this weekend, I have come to the conclusion that I will be a better person without alcohol in my life," he said in a statement. "I take full responsibility for my personal mistakes and my problems with alcohol are not an excuse for my personal lapses in judgment."
Not an excuse, but a great distraction, right Gavin? Welcome to the club! Mark Foley will be contacting you soon with your Rehab Redemption membership card, which includes one (1) free public use of any relevant ethnic slur against Alex Tourk.
Good call, Cushie! [tx ADM]
categories: Culture, Media, Politics
posted by amy at 10:45 AM | #
Trackback Pings
TrackBack URL for this entry:
http://amysrobot.amyinnewyork.com/mt/mt-tb.cgi/609
Comments
Post a comment