« This week's so-so comedies | Home | DNC: I already miss the Olympics »
August 25, 2008
Merge Records' celebrity series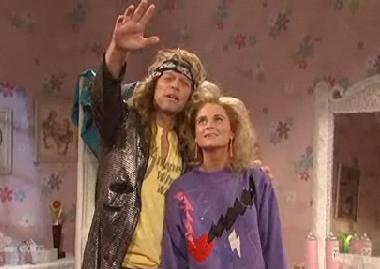 We already knew that Amy Poehler loves Bon Jovi (see above, and SNL video), but it turns out she's an indie rock fan, too.
For its 20th anniversary, Merge Records has asked a bunch of famous people--some musicians, some not--to curate a series of compilations of their favorite Merge tracks. So far, they've got Peter Buck and the guy who directed Junebug and some Superchunk videos to curate the first two, then later in 2009 will come volumes by Jonathan Lethem (who's a big music fan), David Byrne, Amy Poehler, and the chef at Momofuku, David Chang, who I guess is a celebrity now (here he is on Charlie Rose.)
The only way to get these CDs is to subscribe to the whole series of 14 compilations, called SCORE!, which you can do starting September 8. Proceeds from sales will go to the charitable organizations picked by each curator. Neat!
Pitchfork has some more details about the series.
A few Merge bands I've liked from the pre-Arcade Fire years: The Magnetic Fields and The 6ths, Polvo, Neutral Milk Hotel, East River Pipe, and the re-released stuff by The Clean.

categories: Celebrities, Music
posted by amy at 4:07 PM | #
Trackback Pings
TrackBack URL for this entry:
http://amysrobot.amyinnewyork.com/mt/mt-tb.cgi/863
Comments
Post a comment