« Friday afternoon reading: Dogfighting championships | Home | Who's Older?™: Valentine's Day edition »
February 12, 2007
NYT headlines
Yesterday's New York Times had an article on the popular recreational usage of Viagra among Spanish men, with a surprisingly Post-y headline:
"Spain Says Adiós Siesta and Hola Viagra"
Some old favorite Post headlines celebrating our Spanish-speaking brethren include a culturally sensitive piece on Bloomberg's efforts to learn Spanish: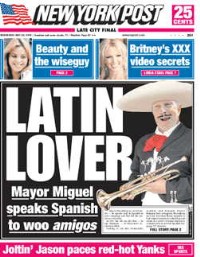 And the questionable announcement of Bill Richardson's plans to run for President:
NM Governor Throws Sombrero Into Ring.
Nothing wrong with using a few universally familiar Spanish words in a headline, but the subject matter of the Times article makes it sound sort of like an ad in the back of a magazine guaranteeing the erotic delights of spanish fly. The piece discusses how cultural shifts have affected the sexual habits of all those fiery, macho Spaniards, leading to increased popularity of... ok, I don't know if they made this up, but they claim that Spanish people call it "sexo azul":
The quest for Viagra was apparent on a recent day at a packed disco in Chueca, a bohemian district of Madrid, where a group of young men said they took Viagra because it increased sexual confidence. "No one wants to admit it, but everyone is taking it," said Santiago, a 32-year-old travel agent.
"We used to have a siesta, to sleep all afternoon, to eat well," said a spokeswoman for Pfizer. "But now we have become a fast-food nation where everyone is stressed out, and this is not good for male sexual performance."
Pfizer says it sold nearly one million boxes of Viagra in Spain last year, the equivalent of one box for every 17 men 18 and older. Globally, Pfizer earned $1.66 billion from Viagra sales in 2006.
And how about the señoritas? Turns out they're a bunch of insatiable hot tamales, too.
One such woman is Carmen, a chic, twice-divorced 45-year-old information technology executive and Sophia Loren look-alike, who complains that her sexual ardor intimidates most Spanish men. Frustrated by her boyfriend's sexual performance, Carmen insisted that he take Viagra, which he obtained by making a fake prescription on his home computer.
The Viagra worked, she says, but she decided anyway to leave her boyfriend, an urbane 55-year-old psychologist, for a 32-year-old unemployed student athlete.
"Viagra is not the solution many Spaniards think it is," said Carmen. "I came to realize that the problem wasn't my boyfriend's sexual prowess. The problem was him." Now, she added, "I have sex six times a day, but I do miss going to the opera."
Whoa. Or, ¡Whoa!
categories: Culture, International, Media, Sex
posted by amy at 4:02 PM | #
Trackback Pings
TrackBack URL for this entry:
http://amysrobot.amyinnewyork.com/mt/mt-tb.cgi/613
Comments
Post a comment