« WGA Strikes! | Home | Grossest abuse ever of those tempting egg donor stipends »
November 6, 2007
America's decline: our public works are ugly, lethal
Above is a picture of your basic, ugly NYC manhole cover.
Now check out this array of beautifully-designed manhole covers from Japan that Wired linked to today: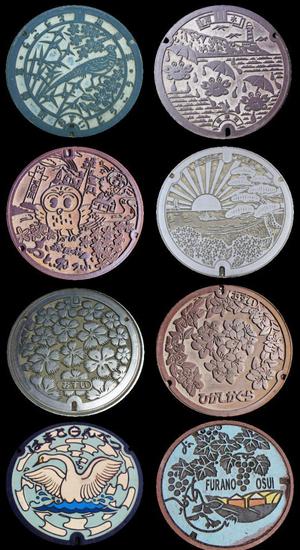 Each Japanese prefecture makes its own unique manhole covers, many of which are brightly colored and feature cute dancing crabs, frogs, and aliens.
Meanwhile in our own country, the most interesting things our manhole covers do are burn or electrocute people.
And in the larger world of American public works, if the city that you live in hasn't had a major road explode, a bridge collapse, a retaining wall crush rush-hour traffic, or run out of water, you should consider yourself lucky.

categories: Culture, Environment, International, NYC
posted by amy at 2:03 PM | #
Trackback Pings
TrackBack URL for this entry:
http://amysrobot.amyinnewyork.com/mt/mt-tb.cgi/738
Comments
Post a comment