« The more we learn, the duller it gets | Home | Increasingly cynical state looks forward to non-sleazeball leader »
March 12, 2008
Hollywood heralds the death of yet another street art form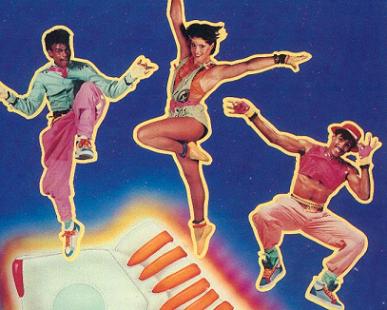 Here's something Hollywood has a long history of doing: latching on to an informal variety of art or performance that was originated by poor people living in big cities, then sucking all the life out of it through a series of big, commercial movies that feature a sanitized version of the original performance/art form.
In 1980: Can't Stop the Music (disco) and Xanadu (disco roller skating).
In 1984: Breakin' and Breakin' 2: Electric Boogaloo (breakdancing). These two movies came out only 7 months apart, which says a lot about their production values, and shows how well the producers predicted that the first movie would swiftly obliterate whatever coolness breakdancing still had.
Now it seems like young star Channing Tatum is making a career out of these kinds of movies. The guy is the star of Step Up and appears in Step Up 2 The Streets.
(I am guessing that at one time there were young city kids who actually engaged in some form of street dancing, which is different from step dancing, right? Kids in my hometown were metal fans, so I'm out of my element.)
Channing Tatum is also the star of Dito Montiel's upcoming Fighting, about underground street fighting. And now he's going to star in Parkour, about an undercover cop who enters the shadowy world of underground street gymnastics. [tx T-Rock for developing this theory.]
By the time Parkour gets released in 2009, it will be 5 years after the French District 13 came out. Parkour probably stopped being cool around 2006, sometime after that one scene in Casino Royale and the Madonna video. Even the Times did their characteristically late trend-watch piece last June. If those weren't enough to make parkour uncool, this should do it.
Channing Tatum is the perfect prefab famous actor name. If I start acting, I think I'm going to use Hepburn Dakota.

categories: Culture, Movies, Music
posted by amy at 3:35 PM | #
Trackback Pings
TrackBack URL for this entry:
http://amysrobot.amyinnewyork.com/mt/mt-tb.cgi/793
Comments
Post a comment