« The State of Network TV | Home | Halloween Parade »
October 31, 2006
Who'Dat?™: Celebrity golfers
Now that Snoop Dogg and Lee Iocacca are tv golfing buddies, there's no point pretending that golf is only for rich guys who run the business world. It's the sport of rich guys who run the entertainment business world, too.
In today's edition of Who'Dat?™, see if you can tell who this golfer is, then click on the picture to see if you are right.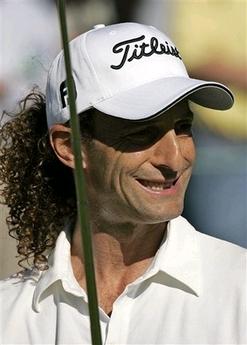 After you've played, see some more info about this celebrity golfer after the break.
Kenny G has been ranked the #1 Golfer in Music by Golf Digest Magazine. He relates his golf game to his first love, the saxophone, with the kind of Zen meditative reflection we've come to expect from Kenny G: "When that saxophone goes into my mouth, I get into a space where I never think about the notes I've already played or anticipate the notes ahead. I'm the way you're supposed to be in golf: in the moment, letting it go."
Also in the Top 20 [pdf] is the drummer from No Doubt, Alice Cooper, Huey Lewis, and Justin Timberlake.
Trackback Pings
TrackBack URL for this entry:
http://amysrobot.amyinnewyork.com/mt/mt-tb.cgi/572
Comments
Post a comment