« Seven Levels of Christmas | Home | Imagine college. Now imagine your roommate is Tracy Morgan. »
December 15, 2008
Which soul icon will Beyoncé play next?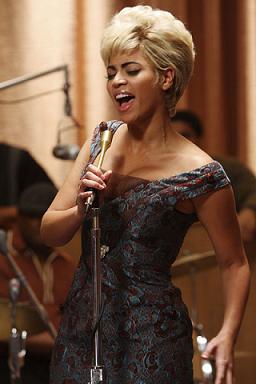 Beyoncé's latest movie, Cadillac Records, tells the story of Chicago's Chess Records, an early blues, soul, and rock label that introduced black artists to white audiences and global stardom. Beyoncé plays Etta James, and though her acting is a little uneven and the movie isn't doing especially well at the box office (it opened last week in 9th place, this week it's at 11th), she's got an Executive Producer credit and sings the hell out of a lot of soul classics on the soundtrack.
Her last major role was in Dreamgirls, the quasi-historical story of Motown Records, Detroit's early pop and R&B label. She played the Diana Ross character, and even though she was flat as a flounder, she looked great in those early 60's outfits and more or less held her own in a mediocre movie.
So what's next? I'd like to see the early rock label triumvirate completed with a movie about Stax Records, Memphis's early soul and funk label. Like Chess, most of the greats on Stax were men (Isaac Hayes, Booker T and the MG's, Otis Redding) but there were a few outsize female icons that would be great for Beyoncé to play. She could do a pretty good Mavis Staples [photo], beating out her older Staple Sisters to become the lasting solo star. I'm not Beyoncé's greatest fan, and she's better at pop than soul, but she's trying to stretch herself into a respected actress, which is good. Plus she's probably a major draw for audiences that might otherwise not care about movies about old record labels.
Cadillac Records was OK. It has a few great scenes, and Jeffrey Wright as Muddy Waters and Mos Def as Chuck Berry are especially good. I wish there had been more scenes about the uneasy partnership between Leonard Chess, the label owner, and Muddy Waters, his first star, since their scenes together were the most memorable. And fewer contrived lines like "Just you wait! My wife's gonna drive a Cadillac!"
The Post explains today why Bo Diddley, also a major star on Chess, isn't mentioned in the movie at all. His management company says:
"It's no secret that Bo had real issues with the Chess brothers and their 'creative accounting practices.' It was Bo's recollection that every time he or another performer would go into the Chess offices to ask for their royalties, they were given the keys to a new Cadillac instead. So, in that regard, at least they got the title of the movie right. Regardless, we are completely shocked that the producers would omit such a seminal figure as Bo."
That "creative accounting" is represented in the movie, with Leonard Chess diverting a bit of Chuck Berry's prodigious income stream to his less popular labelmates. The scene in Cadillac Records was almost exactly like the scene in 24 Hour Party People, the quasi-historical movie about Factory Records, when Tony Wilson uses New Order's royalties to pay for other less successful ventures, like the Hacienda and every other band on the label.

categories: Celebrities, Movies, Music
posted by amy at 3:32 PM | #
Trackback Pings
TrackBack URL for this entry:
http://amysrobot.amyinnewyork.com/mt/mt-tb.cgi/911
Comments
Post a comment